Another Year
Another year has begun and we spent the Christmas madness and New Years eve away from home at the Baltic sea (a photo post might follow). Time to look back at 2011.
---
2011 felt a bit stressful, but maybe that's how a year always feels at the end. My job had it's ups and downs. But all in all 2011 wasn't too bad. And having made my driver's license is an achievement that makes me happy for sure
. Another first for me was to get a gym membership and going fairly regularly, we'll see if I can keep it up.
Of course Open Source and programming was how I spent a lot of my time again. I was a Google Summer of Code Mentor for the first time and we did have another DokuWiki hackfest this year. I'm really happy to have written my first little Android App and had much fun experimenting with Google's APIs and other stuff outside the DokuWiki scope.
I always write about how I'd like to travel more and this year it wasn't to bad in this department. It started with a trip to Boston. Then the earthquake in Japan jeopardized our plan for the spring vacation (and did cost us a bunch of money) and we went to a fantastic holiday in Spain instead. A business trip brought me to Heidelberg. Using my new driving skills we had a great road trip to visit my dad and then the Black Forrest. In October I got to see San Francisco and finally we had another short vacation just now. I'm really looking forward to see more of the world this year.
I've read 29 books this year and blogged about them each month. Reading more was a good decision and I'll try to keep up my pace, but I think I will drop the monthly book post. 2011 was also the first year where I bought more books digitally than in their dead tree form – reading on my mobile is so much more convenient than carrying heavy books with me.
But not only for books I introduced some routine in my life. In 2011 Kaddi and I decided to have a weekly video session each Wednesday. This way I have seen much more movies than in previous years. Here's my list in movie posters (hover for the movie title and my personal rating).
The Numbers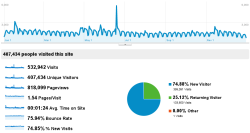 As every year, here are a few numbers about splitbrain.org. According to Google Analytics, my site had 532,942 visits with 818,099 pageviews. As always, nearly half of the traffic went to the DokuWiki page.
Of my 42 blog posts in 2011, these where the ones with the most visitors:
The blog received 521 comments this year and these where the most commented ones:
Thanks for the comments. I'm happy about each non-spam comment I receive. Unfortunately the rate of spam is steadily increasing. Maybe I'll switch to some 3rd party comment hoster this year to outsource anti-spam mechanisms…
Goals
Last year I didn't feel like putting up any goals, but I'd like to write few bits down this time. I might completely ignore them and that's fine with me - it's just how I plan things should go right now. If the plan changes, who cares?
I still feel like the DokuWiki project is too much relying on my decisions to moving forward and I'd like to change that in 2012 somehow. I'm not sure how and am open for suggestions. I don't want to quit the project, but I'd be happy to lean back a bit and have time to dig into other things like 3D printing, Android development or just playing computer games. I also have some ideas for DokuWiki features I'd like to work on without having the nagging feeling I should do other things first… we'll see.
Another thing that has been going around in my head for a long time is to open a photo blog. It should be a fairly automatic thing that allows me to chose a whole bunch of pictures, add descriptions and it will post a high res pic every few days on its own. I'd like to get this going in 2012.
I wish you a happy 2012 and hope you'll keep reading and commenting.
Similar posts: