Stencil Street Art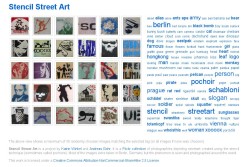 streetart.splitbrain.org is the place where Kaddi and me collect our photos of stencil spray paintings. This kind of streetart seems to be very popular in Berlin and other cities currently.
The pictures where formerly hosted directly at the site using a PHPgraphy gallery in June 2006 all images where moved to flickr. Because of flickr starting to censor access to their images in June 2007 I was no longer comfortable with supporting them and moved the images to 23hq.
The page configured at the splitbrain subdomain shows a random selection of the available photos and a tag cloud. This was done using the phpFlickr toolset. For showing larger versions of the images directly on the page a modified SlimBox is used. Before you ask: the code is really trivial and not ready to share. Build your own instead, the used tools are all Open Source.