The Android tablet market is not what it used to be anymore. There used to be a huge selection of tablets to choose from. But nowadays the selection is slim. When my trusty Asus' battery failed, there wasn't much choice.
Since I also was a bit short on cash1) I decided to explore the cheapest option available: Amazon's Fire series. I picked the Fire HD 8 which was 90 EUR in the recent Cyber Monday sale.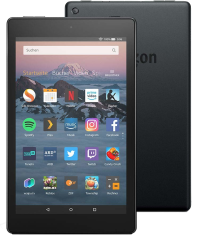 Now, Amazon's Fire tablets aren't running a proper Android OS but instead they use Amazon's derivate dubbed Fire OS. They offer their hardware cheaply because they want you to buy into their eco system. The Fire series is meant to consume Amazon Music, Amazon Prime Video, Kindle Books and of course for shopping at Amazon.
This means their default launcher is like a big shopping catalog. Oh and it does not even has the Google Apps (web search defaults to Bing).
So in the default setup, the Fire HD 8's software is a bit shit.
Luckily there are a few things you can do about it. Unfortunately the boot loader is locked, so simply replacing the system is not an option currently2). Instead workarounds are needed.