Welcome
Hi, I'm Andreas Gohr and splitbrain.org is my website. I'm a web developer and maker living in Berlin, Germany. If you're new here, feel free to check out the blog posts and links below.
If you like what you see, you can subscribe to the RSS feeds for the Blog Posts and Links.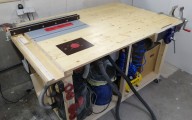 Workbench Upgrades I built my main workbench nearly a year ago. It remains the most important part of my workshop and I keep improving it. I already blogged about adding a router table and a disk sander. This blog post is about a few more upgrades I did in the last months. Table Saw Fence Update… ▶
Older Posts are available in the Blog Archive. Keep up to date with the RSS Feed.