Welcome
Hi, I'm Andreas Gohr and splitbrain.org is my website. I'm a web developer and maker living in Berlin, Germany. If you're new here, feel free to check out the blog posts and links below.
If you like what you see, you can subscribe to the RSS feeds for the Blog Posts and Links.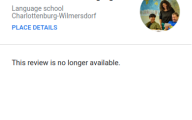 Google Maps Reviews are Dead Remember when Google Maps reviews meant something? For a while it felt like they empowered the "common man". If you received shitty service or were taken advantage of, you could at least warn your fellow men... Nowadays the Maps reviews are more and more meaningless. I talked about the fake reviews of my… ▶
Older Posts are available in the Blog Archive. Keep up to date with the RSS Feed.