Welcome
Hi, I'm Andreas Gohr and splitbrain.org is my website. I'm a web developer and maker living in Berlin, Germany. If you're new here, feel free to check out the blog posts and links below.
If you like what you see, you can subscribe to the RSS feeds for the Blog Posts and Links.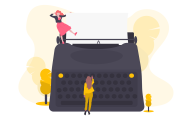 Back to the Blogosphere With the redesign of my website and the introduction of the random button, I've read a lot of my old blog posts recently. One thing I miss from back then is the "blogosphere". There was a time when people used blogs to post about their important and not so important things in live. A time before social media became mainstream. A time before Google Reader became the number one feed reader. A time before it got killed off… ▶
Older Posts are available in the Blog Archive. Keep up to date with the RSS Feed.