Welcome
Hi, I'm Andreas Gohr and splitbrain.org is my website. I'm a web developer and maker living in Berlin, Germany. If you're new here, feel free to check out the blog posts and links below.
If you like what you see, you can subscribe to the RSS feeds for the Blog Posts and Links.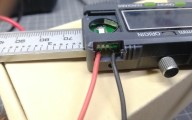 Digital Calipers Modded Like many, I own some cheapish digital calipers. And like anyone else, I am super annoyed by the little LR44 button cell that powers them. Or rather does not, because it seems to be always dead. So for the last years I mostly used my old analog calipers. And once you learn how to read their sub-millimeter measurement, they are pretty awesome.… ▶
Older Posts are available in the Blog Archive. Keep up to date with the RSS Feed.