Welcome
Hi, I'm Andreas Gohr and splitbrain.org is my website. I'm a web developer and maker living in Berlin, Germany. If you're new here, feel free to check out the blog posts and links below.
If you like what you see, you can subscribe to the RSS feeds for the Blog Posts and Links.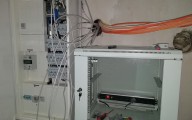 Moved (House Update) It's done. I'm typing this at my desk in the new house. It has been about three months since the last update, so I guess I have to catch up a lot. Electricity In my last update I was still working on the wiring. For quite a while all connections at the fuse box where temporary only and I somewhat procrastinated to properly wire it up because that required cutting the cables to the proper length. And once you cut a cable you cannot undo it.… ▶
Older Posts are available in the Blog Archive. Keep up to date with the RSS Feed.