Welcome
Hi, I'm Andreas Gohr and splitbrain.org is my website. I'm a web developer and maker living in Berlin, Germany. If you're new here, feel free to check out the blog posts and links below.
If you like what you see, you can subscribe to the RSS feeds for the Blog Posts and Links.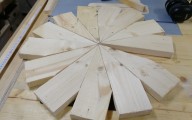 Scrapwood Side Table From a recent project, I had a whole lot of weird off-cuts of rough construction lumber left. I hate throwing away wood, so when Kaddi asked for a small side table to use with the lawn chair I knew what to do. Each off-cut had an angle cut, so the idea was to arrange them in a circle. But since the cut had been done with a handheld saw at a weird angle, they didn't really line up:… ▶
Older Posts are available in the Blog Archive. Keep up to date with the RSS Feed.