Welcome
Hi, I'm Andreas Gohr and splitbrain.org is my website. I'm a web developer and maker living in Berlin, Germany. If you're new here, feel free to check out the blog posts and links below.
If you like what you see, you can subscribe to the RSS feeds for the Blog Posts and Links.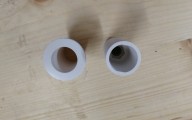 Adam Savage Worklight Alternative Ever since I saw Adam Savage's custom workbench LED lamps, I wanted something similar. See the video below for Adam's version. Basically he mounted a camera flat panel LED on top of an armature wire reinforced 3/4"… ▶
Older Posts are available in the Blog Archive. Keep up to date with the RSS Feed.