Welcome
Hi, I'm Andreas Gohr and splitbrain.org is my website. I'm a web developer and maker living in Berlin, Germany. If you're new here, feel free to check out the blog posts and links below.
If you like what you see, you can subscribe to the RSS feeds for the Blog Posts and Links.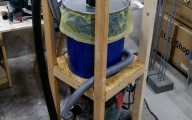 Workshop Upgrades The cellar and future workshop is still a big mess with lots of boxes and stuff that hasn't found it's place, yet. But at least two projects are done now to give the shop a bit more space. The shop vacuum is now hooked up to a cyclone system and both got their own little vertical shelf. I will probably add a top lid and a way to to attach the accessories to it. I also need to find a better way for turning it on and off, because the power button is now very awkward to reach.… ▶
Older Posts are available in the Blog Archive. Keep up to date with the RSS Feed.