Welcome
Hi, I'm Andreas Gohr and splitbrain.org is my website. I'm a web developer and maker living in Berlin, Germany. If you're new here, feel free to check out the blog posts and links below.
If you like what you see, you can subscribe to the RSS feeds for the Blog Posts and Links.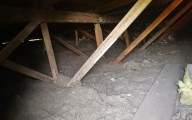 House Status III So much happened since the last update. Let's see if I can sum it up here. Roof Insulation Last time, we were still not clear if the roof insulation offer would work out. But luckily it did. It got a little bit more expensive than the original offer, because these things always do. But everything worked out fine.… ▶
Older Posts are available in the Blog Archive. Keep up to date with the RSS Feed.