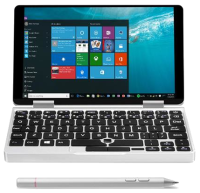 I'm a big fan of tiny portable computers and still fondly remember my EeePC. Unfortunately the NetBooks fell out of fashion again and for a long time it was hard to get any really small laptops. But it seems the genre is coming back under the name "Ultra-Mobile PC" or UMPC.
The start made the somewhat under powered GPD Pocket, followed up by an even worse One-Mix Yoga. However both had very successful crowd funding campaigns which proved there is a demand for small computers. Both, GPD and One-Mix are Chinese companies designing, building and selling these machines in seemingly small batches with the initial production funded by crowd founding. This allows them relatively quick iterations.
Last year finally the GPD Pocket 2 was released which improved a lot on the first design and shortcomings and One-Mix followed suit just a few months ago with the Yoga 2.
I decided to get the Yoga 2 because of the slightly more powerful specs (more on that later). I bought it at Geekbuying for 559.30€ including shipping. As a pleasant surprise, the device got shipped from the Netherlands instead of directly from China so had not to pay any additional tolls and taxes.
Below follows a long post (you have been warned) about the hardware in it and how to get it running on Arch Linux with XFCE.