Welcome
Hi, I'm Andreas Gohr and splitbrain.org is my website. I'm a web developer and maker living in Berlin, Germany. If you're new here, feel free to check out the blog posts and links below.
If you like what you see, you can subscribe to the RSS feeds for the Blog Posts and Links.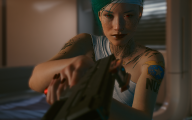 Some Thoughts on Cyberpunk 2077 As many others I was excited for Cyberpunk 2077. I absolutely loved "The Wither 3" and I was always a fan of Neuromancer and Blade Runner. However when the game finally came out, I didn't buy it right away for multiple reasons. One was the steep price of 60 EUR, then there were lots of reports of bugs at launch. Most importantly I wasn't sure if my computer would actually be able to play the game.… ▶
Older Posts are available in the Blog Archive. Keep up to date with the RSS Feed.