Welcome
Hi, I'm Andreas Gohr and splitbrain.org is my website. I'm a web developer and maker living in Berlin, Germany. If you're new here, feel free to check out the blog posts and links below.
If you like what you see, you can subscribe to the RSS feeds for the Blog Posts and Links.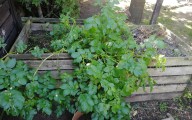 New Compost Ever since we bought the house, there are two things I find somehow relaxing. One is mucking around in the workshop of course. The other is tending to the compost. Turning food and garden scraps into usable soil is quite fascinating to me and I watched a gazillion YouTube videos on the topic.… ▶
Older Posts are available in the Blog Archive. Keep up to date with the RSS Feed.