Welcome
Hi, I'm Andreas Gohr and splitbrain.org is my website. I'm a web developer and maker living in Berlin, Germany. If you're new here, feel free to check out the blog posts and links below.
If you like what you see, you can subscribe to the RSS feeds for the Blog Posts and Links.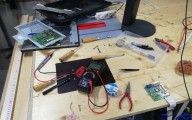 Syncmaster 2443BW Repair I own two 24" 2443BW Samsung screens from 2009. They still use DVI instead of HDMI but otherwise they are perfectly fine monitors. That is until yesterday, when one of them suddenly turned off and refused to show any sign of life.… ▶
Older Posts are available in the Blog Archive. Keep up to date with the RSS Feed.