Welcome
Hi, I'm Andreas Gohr and splitbrain.org is my website. I'm a web developer and maker living in Berlin, Germany. If you're new here, feel free to check out the blog posts and links below.
If you like what you see, you can subscribe to the RSS feeds for the Blog Posts and Links.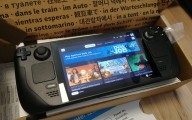 Deck Content 2 It now has been a month of owning a Steam Deck. Time for a tiny little review. [Steam Deck] For those living under a rock (or are simply non-gamers): the Steam Deck is portable gaming console. However unlike other popular portable consoles like the Nintendo Switch, this is basically a PC under the hood. It runs SteamOS - a Linux system made for playing PC games. And since most PC games only run on Windows it comes with it's own Windows emulation layer called Proton which is bas…… ▶
Older Posts are available in the Blog Archive. Keep up to date with the RSS Feed.