Viaspace Marketing Crap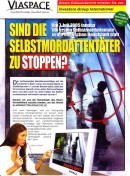 I just found some very disgusting marketing paper in my letter box. It is a 12 pages high glossy print to animate me buying Viaspace shares. The whole thing is made up like a tabloid and the front page catchline is "Are the suicide bombers stoppable?" - They then try to tell me their new technologies like video surveillance and explosive detectors will do so.
The most interesting part of the pamphlet is the fineprint placed by the company who printed this thing. They state that Viaspace (or their marketing company called "SKI 4 U SNC") payed 819.672,00 € (yes that's nearly a million Euro for us normal people) just to get this stuff printed and distributed. Unbelievable.