Expensive Red Wine?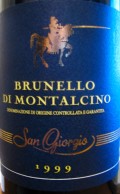 I'm probably just drinking the most expensive red wine I ever had. But I don't know for sure. I'm no wine expert at all. I like to drink a glass of red wine from time to time. I usually buy it at the super market for a few Euro (I probably never paid more than 5 for a bottle).
The one I have here was a present to Kaddi but she doesn't like red wine. The one who gave it to her got it for Christmas himself. It was a business gift so I guess it was paid by tax deductions anyway, but I wondered how much I'd have to pay for it. I googled for Brunello Di Montalcino and the results suggest it to be a fine wine
. Did I tell you I have no knowledge in this area?
Unfortunately I wasn't able to find an exact match for the label. So the question is: do you know this wine? Is it really as expensive as I think? Am I a fool to have it opened instead of putting it in my cellar
?
Similar posts: