Location based services in Budapest
I'm on vacation in Budapest currently. I will return tomorrow, so please be patient if you sent me a mail.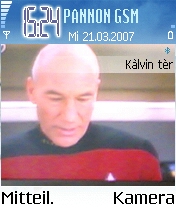 The city is beautiful and I will probably blog more about it on my return. But yesterday I discovered something geeky enough to be worth my first moblog entry. Have a look at the screenshot to the left. Its a shot of my mobile phone (yes I have a crappy TV screen photo of Picard as my background). Notice the Kálvin tér? I took this picture in the subway and Kálvin tér is the next station.
This is probably old stuff for many of you but I've never seen this before (and Berlin's subway system is pretty modern). I really like it. I'd love to see this service for other places as well. Eg. seeing the names of famous buildings for sightseeing or getting info on bus and tram stations as well.
Anyway, greetings from Budapest
Similar posts: