DokuWiki of the Month: ch!mer!c.de
This article is part of a monthly series.
Every month1) I present a DokuWiki powered site which is special for its design, content or clever use of the software. To give you a first impression on what the site is about I'll send a short, interview style questionnaire to its creator.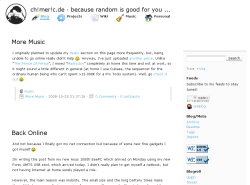 ch!mer!c.de
This month's wiki is probably known by many DokuWiki users. ch!mer!c.de is the personal homepage of Michael Klier, one of DokuWiki's most active developers.
The site has its very own style and covers a broad range of topics. The mix of closed and open sections of the site shows the flexibility of DokuWiki's ACL features.
Questions were answered by the site's owner Michael Klier.
---
Can you give a short introduction on what your wiki is about?
Well, my wiki is mainly about me
. I use DokuWiki not 100% in the traditional Wiki sense but rather as a CMS. The main focus of my site is my blog, but it's also the place where I host some of my projects like DokuVimKi (a Vim plugin to edit DokuWiki pages via XML-RPC). In addition to this I use it to keep random notes on various, mostly computer related topics.
Since when is it online?
IIRC I started this site around the end of maybe 2003/2004 and I am using DokuWiki since around September 2005.
Why did you chose DokuWiki? Did you try other software before?
At first I tried the usualy blog system candidates like Serendipity and Wordpress. They where fine for the blogging part but not really suited to host static or heavily changing content. A friend of mine used PmWiki back then (still does) and recommend to try a Wiki for this task. I tried PmWiki, MediaWiki and finally DokuWiki. I finally choose DokuWiki, it was easy to setup, used flat files, and I've found the syntax easier compared to PmWiki. At first I struggled to integrate the Wiki into the blogging software I used but soon I switched to use DokuWiki exclusively.
Did you do any modifications to the software?
The site runs a current development version of DokuWiki without any further modifications. However, I wrote a couple of plugins and also created a couple of templates which are all available at the official DokuWiki page. Among that I maintain the popular blog plugin suite 2) for DokuWiki together with Gina Häußge.
Who is editing the site?
The blog is solely edited by myself and closed for editing by others. The rest of my Wiki, like my project pages, is open for everyone to edit. Anonymous edits are allowed there as well. I've never had any problems with Spam (I am using the CAPTCHA plugin though). I really like this sort of openness, and people are using it (posting questions, fixing typos etc.) for which I am really thankful.
Brag about your statistics ;-)
At the moment there are 3 registerd users, I've removed most of the registered people who haven't logged in in a long time lately (maybe 30). The wiki contains 385 pages. I don't really trust the numbers of my webalizer but the pages/visits ratio is around 16000/1400 (most of them probably generated by myself
).
Is there anything else you want to tell about your wiki?
Hmmm, well, if you like to read random, mostly boring blog posts sprinkled with typos it's definitely worth to check it out. If you're not into the whole blogging thingy and you're looking for DokuWiki templates/plugins I think's it's definitely worth a closer look.
If you know of a DokuWiki driven site which is somehow remarkable and should be featured as DokuWiki of the Month, drop me a mail or leave a comment, please.