The Great Wave
I have always been a fan of Hokusai's "The Great Wave off Kanagawa" and got reminded of it again when I saw it on "Great Art Explained".
With the "original" being a colorized wood print, produced in the thousands, I thought why not get a modern print for my self?
The wall above my desk was still awfully empty. So I bought a nice print at Kuriosis – a Berlin based online shop for art prints.
Now all I needed was a frame. And instead of buying one, I decided to make my own.
I didn't take any pictures of the process but it was relatively straight forward:
resaw some scrap pine to the proper dimensions on the table saw

cut to length

add a recess using the router table - this will hold the picture and back panel later

use the miter saw depth stop to cut mortises for cross lap joints

1)

glue the frame

add a 45° bevel on all the front sides using the router table

route a small slit at the center of the top frame and add a piece of aluminum as a hanging point

sand up to 240 grit

paint with chalk paint (or what ever you want)

lightly sand again with 320 grit

cut a fitting back panel from 3mm MDF

put the picture and back panel in, secure with staples
I really like the result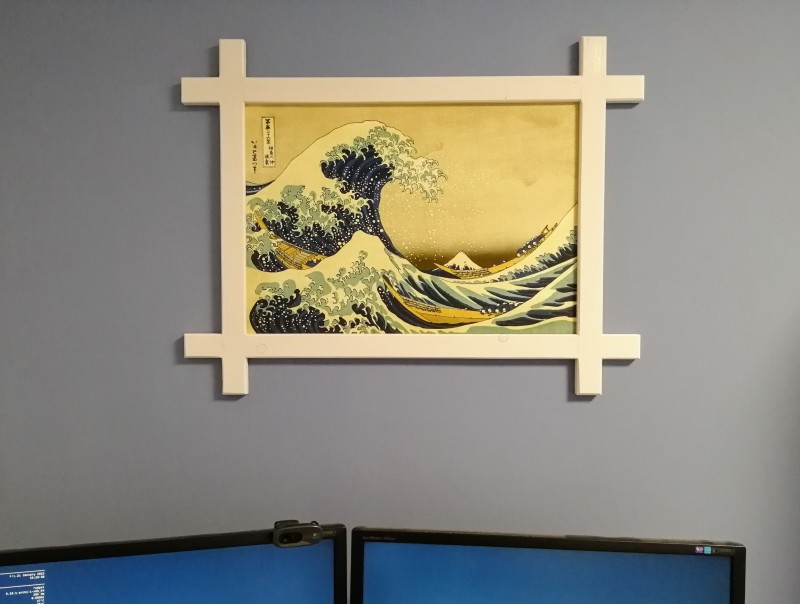 Similar posts:
1)
you could also use a cross cut sled on the table saw