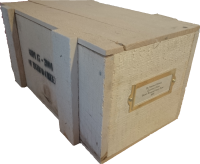 A while ago, I wrote about a curious letter I received and how with a bit of googling, I figured out what it was.
The letter was the first of more to follow, all part of a "Mystery" bought by my girlfriend at the Mysterious Package Company for me.
From time to time I get angry mail and comments about how my original blog post "spoils the fun" because it's now easy to figure out what's going on by a quick google search. I find that a bit silly, since it's a blog post about how I used Google to figure out what the letter is about. So my blog post may have made it a bit simpler, but as I wrote – the mystery was solvable already before my post.
Nonetheless I redacted the names and identifiers in my original post. But Google continued to find my post anyway. So today I created a robots.txt entry which should remove the post from search engines altogether.
However sometimes people ask how the thing continued and if I spoiled it for my self by googling. So here's a bit of a review on the mystery I received. If you currently have your own mystery going, you might want to stop reading here.