New MP3 Player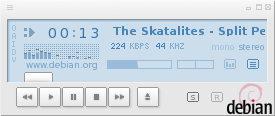 Today I finally ditched XMMS1). For some reason it sometimes produced 100% CPU load and made the whole system unusable. I'm now using the Beep Media Player which is based on XMMS but has a sweet looking GTK2 interface and some other improvements.
To get it running with my Alsa config I had to change the Audio Device setting to pcm.pasymed. I also disabled the Mmap mode in the Advanced Settings. For getting the volume control to work I chose the Front Mixer Device of my onBoard Intel soundcard.
After restarting Beep everything works, looks and sounds good
Similar posts:
Posted on Saturday, May the 20th 2006 (13 years ago).
blog comments powered by