Linux MP3 Music Library Managers
Looking for a good MP3 music manager is reoccurring task for me, because so far none has really convinced me, yet. After switching to a new distro recently, it was time to reevaluate the choices. Below is a list of library managers/players available through the Arch package manager.
I installed them all, tried to import my music library1) and tested a few common tasks. The list below is not an in depth feature comparison. It's just the features/non-features that caught my attention.
All tested players have an iTunes-like artist/album/song browser. I was most interested in their last.fm integration but also had a look at other features. My album cover images are stored as a file named folder.jpg, so I checked if the tools would find and display that correctly.
---
Amarok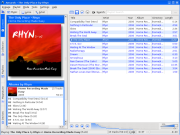 KDE based

Most feature rich player

Automatically rates songs based on your behavior

Great context browser showing Wikipedia info, last.fm related songs and artists, additional albums by the same artist, lyrics…

"smart" playlists

Last.fm scrobbling, neighbor and tag radio, love/tagging for radio only

Radio station browser, podcast support

Album cover support with cover manager to download from Amazon

Plugin system with browser/downloader

Customizable notification window
Banshee
GTK+ based player

Ripping and burning support

Video player

Last.fm scrobbling and neighbor/recommended radio support, no love/tagging

"jump to playing song" didn't work for me

Notifications
BMPx
GTK+ based

Somewhat slow loading

No way to play from all songs!?

Album covers didn't work for me

Full last.fm support with scrobbling, radio (including friends), play similar and love/tagging

Internet radio station browser

Podcast support

Notifications

No "smart" playlists
Exaile
Written in Python/GTK+

Aims to be a GTK+ Amarok clone (but has less features, yet)

Internet radio and podcast bookmarks – no radio browser

Plugin support (with browser/downloader)

Last.fm scrobbling built in – no radio, suggestion or love/tagging support

Album cover support with automatic (Amazon based) collector

Customizable notification window
gmusicbrowser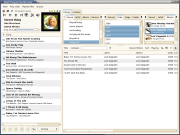 Written in Perl/GTK2

Layout can be configured in many different ways

Last.fm scrobbling only

Lyric support didn't work for me

Considers all files for playing, allows you to set filters – nice!

Manual song ratings

Album cover support, manual Google cover search

No podcast or internet radio support
Goggles Music Manager
Uses the FOX GUI library – simple but fast

Couldn't get album cover support working

Gapless playback and volume normalization

No last.fm support

Not much more
Listen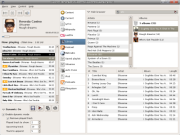 Written in Python/GTK+

Freezes when trying to import my library

I previously used an older version which was quite nice, can't say much about the current one
Quod Libet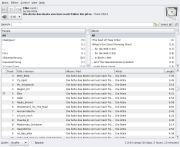 Written in Python/GTL+

Different interface layouts

Internet radio station bookmarking

Plugin support – but none available in Arch

No last.fm support (maybe plugin somewhere?)

Cover art didn't work
Rhythmbox
A Gnome project

Last.fm scrobbling and neighbor radio support, send love for radio songs only

Podcast support, radio station bookmarks

smart playlists

Album cover support

Plugin support
Summary
None of the players is perfect. So far Amarok seems to have the biggest feature set and currently is my default player. What I like most is the automatic song rating based on my listening behavior. When I skip a song it gets a lower score than when I listen to it in full. KDE isn't my desktop environment of choice2) so it feels a bit foreign and I'd love to replace Amarok with a GTK based player someday.
Exaile and Rhythmbox made the best impression inteface/feeling wise so far. The best last.fm integration by far is to be found in BMPx – unfortunately it is missing other important features.
Do you know of any other Linux software I missed? What desktop MP3 player do you use? Let me know in the comments, please.
Similar posts: