File Icon Set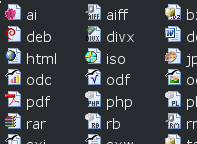 I just made the File Icons you may already know from DokuWiki available as separate download. It contains several additional icons made by Chi. All icons are released to the public domain so you can do whatever you want with it.
I'd love to see much more added. If you miss one – do some pixel-pushing and send it to me.
Similar posts:
Posted on Monday, November the 27th 2006 (12 years ago).
blog comments powered by