The End is near!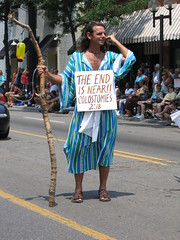 You can't deny it: the end of the year is near1) so this is a good excuse to look back and post a blog entry full of links back to older posts.
Let's have a look at the most popular posts of the year:
The most popular one is Carbon Repair from July. While everyone talks about the iPod, information about the Rio Carbon and it's weak click wheel seems to be much searched for.
The runner up was just posted last month and would be on number one for sure if it had enough time to crawl up. It's Joining .WAVs with PHP and was featured in StumbleUpon and a few PHP related blogs.
Two months ago I talked about Website Thumbnails which apparently hit the right spot. Just a few weeks later the search engine Snap launched a free and much noticed thumbnail service.
After those posts the following ones received some attention as well:
I think this was a quite successful year for splitbrain.org and I'm looking forward to the next. The following days will be quite stressful and I probably won't blog this year anymore. I wish you all a Merry Christmas2) and a happy new year.
2)
or
Hanukkah
,
Crimboween
, Shopping Spree or whatever you like to call the crazy days at the end of the year