DokuWiki of the Month: LinuxBasics.org
I want to try something new. This will be the first monthly series in my blog.
Every month I will present a new DokuWiki powered site which is special for its design, content or clever use of the software. To give you a first impression on what the site is about I'll send a short, interview style questionnaire to its creator.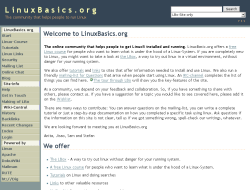 LinuxBasics.org
The start makes LinuxBasics.org. The answers to my questions were provided by Stefan Waidele.
---
Can you give a short introduction on what your wiki is about?
We are "The online community that helps people to get Linux® installed and running. LinuxBasic.org offers a free Linux course for people who want to learn what is under the hood of a Linux-System."
We use DokuWiki as main CMS for our site. All our tutorials are wikipages.
For our course (which is just about to start again) we have wikified "Introduction to Linux: A Hands on Guide" by Machtelt Garrels.
It is thrilling to see how wiki-culture transforms a good page into better page.
Since when is it online?
The project is online since 3.5 yrs. now. First we used Plone, but moved to DokuWiki after one year or so.
Why did you choose DokuWiki? Did you try other software before?
Because:
It stores data in plain text files

It is faster (than the combo Plone/ZWiki used to be)

It is GPL Software

We found a way to modify its looks to our liking.

It was easier than programming our own wiki-software

It had authentication
Did you do any modifications to the software?
We skinned the original output, reusing only those parts we liked and changed the whole design of the output. We have added support for centered text (which is not included in the original by choice), we changed the button text from "save" to "Contribute under the terms of the GPL", we added the PDF-export, …1)
We have also created some scripts to work with the raw-data (TXT-files) in order to create Google sitemaps and to send out weekly announcements automatically.
We have tweaked, modified and mutilated the software beyond the point of ever updating it again… probably time to look at the layout features which you have implemented shortly after we did ours :)
Who is editing the site?
Anyone can register to edit.
The main part of the work is done by the team of maintainers, which consists of Anita, Jisao, Sam and myself. But there are several other's who contribute again and again. (Thank you very much, guys and gals!)
Brag about your statistics ;-)
13,000 to 18,000 visits per month.

50.000 to 150.000 page views per month.

673 pages on the wiki
Is there anything else you want to tell about your wiki?
Probably…
2)
---
I hope you enjoyed this first post of the series. If you know of a DokuWiki that should be featured as "DokuWiki of the Month", please let me know via mail.
Similar posts:
1)
Many of these things are now available through DokuWiki's plugin mechanism and no longer need any core code modifications – Andi