DokuWiki of the Month: Kustupedia
This article is part of a monthly series.
Every month I present a DokuWiki powered site which is special for its design, content or clever use of the software. To give you a first impression on what the site is about I'll send a short, interview style questionnaire to its creator.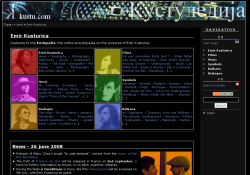 Kustupedia
I like this month's site for its very special niche content which is presented with much love and dedication. DokuWiki is used as a simple CMS. Using a Wiki adds the possibility to open up the whole site or parts to other contributors at anytime.
Questions were answered by the site's webmaster Matthieu Dhennin.
---
Can you give a short introduction on what your wiki is about?
My wiki is about Serbian director Emir Kusturica. He's maybe not the best known of the cinema directors, but he has won pretty everything that can be won in the cinema festivals in the world: two Golden Palm in Cannes, Golden Lion in Venice, Silver Bear in Berlin, French César, Golden Globe…
The website is built like an encyclopaedia to let the visitor discover some articles link after link, and to dive into the universe of this extraordinary film-maker: his films, of course, with analysis of their symbolics, but also the gypsy music, the literature of the Balkan, the story of ex Yugoslavia, and all the artists that have worked with him…
Hence the name of the website: the "kustupedia".
Since when is it online?
It's online since 1996! But at that time, it was just a personal page on a French free web hosting solution.
Year after year, the site has grown huge, and became official: Emir Kusturica knows me and he considers it's "his" website, though he lets me manage it as I want.
Why did you chose DokuWiki? Did you try other software before?
After ten years of writing all the HTML code with notepad, I was fed up. A wiki engine was the best solution to have flexibility (be able to edit pages everywhere, maintain backups automatically, facilitate the layout…). I checked the wiki engines available on the net. I searched a compromise between a powerful and a simple tool. By comparing to the other engines, I found out that DokuWiki had what I searched, and I didn't try any other one.
Did you do any modifications to the software?
Who is editing the site?
Just me for the moment. Nobody else is allowed to edit the pages. I'm thinking of opening it to other people who would have access only to dedicated namespaces, for translating the articles into their language.
Brag about your statistics ;-)
500 pages in English, 500 in French

1 user (me)

Between 1000 and 5000 visitors per day, depending on the news

Up to 60.000 hits per day.
Is there anything else you want to tell about your wiki?
I'm very happy about DokuWiki ! Even at the peak hours I could notice the pages were generated quite quickly.
If you know of a DokuWiki driven site which is somehow remarkable and should be featured as DokuWiki of the Month, drop me a mail or leave a comment, please.
Similar posts: