Game Tip: Weewar
Since I left school my time to play games decreased drastically. Back then I spent several hours a day with playing computer games. Today I'm lucky when I find the time for an hour or two a week.
The effect is that I have to play games which do not require much time, can be played on a mobile device and can easily interrupted. This is why the Nintendo DS is such a perfect device for me.
But this post is not about a DS game but a web browser based one. It is called Weewar.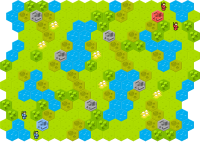 Weewar1) is a turn based strategy game similar to the famous Battle Isle and History Line games. Up to 6 players can fight with various units from simple troopers over tanks and artillery to submarines and airplanes.
The nice thing is that each turn needs a couple of minutes only. You move your units, choose attack targets and set produce orders. When your turn is done, you have to wait for your opponent. If she's online currently it might just be a couple of minutes. But with opponents in different timezones it usually takes some hours. Whenever it is your turn again you'll be informed by email.
Because the game is browser based you can play from everywhere. I've also read about people playing from their iPhone.
If you enjoyed History Line or Battle Isle, give Weewar a try. The basic version is free, if you want more unit types or create your own maps you will need a premium account. Remember to add me to your list of preferred players when you join.
Similar posts:
1)
Referallink will give me 2 weeks of premium account for 5 new signups