DIY Scrabble
This is something I wanted to blog about for a long time. More precisely I had this post on my to do list for nearly 3 years. Talk about procrastination
.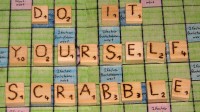 So this one night a few years ago, Kaddi and me were bored and had the sudden urge to play a game of Scrabble. Unfortunately I did not own a Scrabble game. As always when there is something I want and it doesn't exist, I need to build it.
Luckily Wikipedia not only has the rules but also a list of how many pieces you need for each letter and a board layout.
Because I had nothing else available, I spliced a wood lath and sawed little pieces from it. This took ages and because of the splicing no piece has the same thickness. But it gives our Scrabble game its very own, unique charm.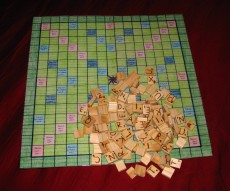 After some sandpaper grinding I started to add the letters with a soldering iron while Kaddi draw the game board. She used some cardboard from our recycling stack, painted it with a felt tip pen and crayons then sealed it with book foil.
The result wouldn't be allowed on any Scrabble contest for sure, but it does its thing for us occasional players. And those wooden pieces feel much nicer than the plastic of the commercial version.
How do you like it? Have you ever build a game your self?
Similar posts: