Mario Kart Wii
I got a new game for my Wii: Mario Kart Wii. As the name suggests it is a racing game using Mario and other characters from popular Nintendo games as drivers.
I was already a big fan of Mario Kart DS and was curious how well Mario Kart would play on the Wii.

The game comes with a steering wheel, which is just a piece of plastic to put your Wii remote into. But as you can expect from Nintendo, the quality is quite nice and robust. Doesn't feel cheap at all.
Like with the Zapper I was skeptical how much such a simple shell would add to the game controlling. But again I was surprised how much better the carts can be controlled when using the wheel. But you can also use the Nintendo Classic Controller, a GameCube controller, the Wii Remote it self or Wii Remote + Nunchuck for controlling Mario Kart Wii. I found the latter to be an excellent alternative to the wheel.

The gameplay is similar to the DS version. There are 4 cups with 4 tracks each to begin with. 4 more cups can be unlocked later. The same goes for additional drivers and carts. As on the DS all cups can be driven in 3 different classes: 50CC, 100CC and 150CC. However Mario Kart Wii introduces motor cycles. In single player the 50CC class is limited to carts, while the 100CC one is reserved to bikes only the 150CC class allows both. The bikes are really fun and add something completely new to the game.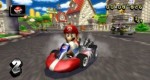 The best part is probably the online game play. Mario Kart is one of the few games that support online play on the Wii yet and Nintendo made sure it is good. In addition to race and battle modes which can be played with up to 12 players, you can also try to beat other player's lap records in the "ghost mode". Using friend codes you can directly race with your friends, either in a separate "room" or by joining them in a global race. You can even join online games with two local players using split screen.
Summary: Mario Kart Wii is fun and worth buying
If you like to race against me, just leave your friend code in the comments. Here's mine: 1762-2829-8292.
Similar posts: