Review: Snapfish Photo Collage
Disclaimer: This review was brokered by

dot-friends

. I was not paid for writing this article, but I could test the service without any charge. Opinions expressed below are completely my own and there were no conditions attached to the deal.

Okay, so the dot-friends guys asked if I'd like to test a new service offered by the HP owned Snapfish. Snapfish is one of many online photo print services. I personally never heard of them before, but I usually keep my images digital anyway.
The task was to try their new photo collage product. I tested the whole thing on their German website, but I guess it is pretty much the same for all countries.
---
As I said, I personally do not have much use for printed photos. But my Mum was bugging me and Kaddi for a long time for not having any current pictures of us. So it was decided to create a collage as a gift for her.
Registering at Snapfish is very easy, all they want is your name, password and email address. There is no confirmation mail needed and you're immediately logged in. Only OpenID could be simpler.
The photo collage is basically a photo poster showing up to 30 different smaller photos. Sizes range from 20×30 cm up to 50×75 cm. Because it was free for me I used the largest size of course
.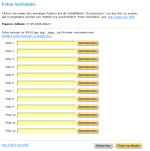 Before you can create the poster you need to upload your images first. Images can be stored permanently at Snapfish and be sorted in albums. The upload is done through simple HTTP upload with a form allowing you to upload up to 12 images at once. There is no fancy stuff like a flash uploader or progress bars. It's all very basic but gets the job done.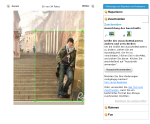 Images can also be "edited" online with basic tools for cropping, rotating, red eye removing and adding simple filters. I only used the JavaScript based cropping tool which gets the job done. For serious stuff I'd always recommend using a real image editor anyway.
When you uploaded your photos you can start to create the collage poster, by choosing it from the products menu. After selecting the images you want to use, Snapfish auto aligns them for you and displays the result. You can also choose some border color and size. So far, so nice.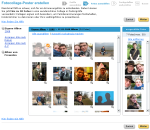 Unfortunately the user interface isn't very well thought through. There is no way to reorder the photos in the preview screen. The only way is to change the where each of the photos will appear on the final poster is to go one step back, remove the selected images from the list and reselect them in a different order. But even this is a bit of a gambling game because it is not intuitively apparent how the automatic aligning will order you images.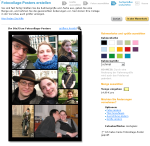 The largest problem is the "back" button on the interface. Unlike your browser button, this one will not get you back one screen to the image selection. Instead it cancels the whole collage build and you have to completely start over again
.
It took us quite a while until we finally had a result we liked. Ordering was a quick process and the finished product is even saved for you so you can easily order the same thing again (eg. when other family members start to get jealous
). The large poster is 14,95€ + 4,95€ shipping.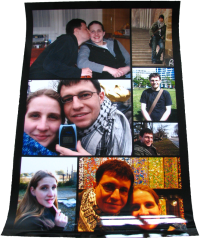 We ordered on Sunday and received the package on Thursday. Could be faster but is still okay IMHO. The result has nothing to complain about, it is of good quality and the colors came out very nice.
To sum it up: nice product which is a cool family gift, but the UI could take a few updates.
PS: users from Germany, Austria and Switzerland can use these links to get 25% off when ordering a collage poster at Snapfish.
Similar posts: