Live Video is still in its Infancy
I just spent the last two hours following Apple's WWDC conference through various sources on the web. I was not only interested in the announcement of the new 3G iPhone but I also wanted to see how such an event would be covered within the web 2.0.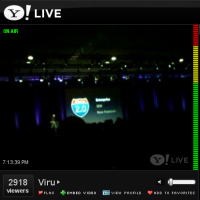 To my disappointment, it still seems to be in it's infancy. I expected video streams from popular blogger as well as many shorter and longer video snippets from individuals. But that wasn't the case.
The only video stream I could find was created by someone nicknamed Viru. It used "Yahoo! Live" as streaming platform. The video quality was okay, but the sound was unusable (sounded like played too slow). Unfortunately he stopped broadcasting early in the conference. He had about 3000 viewers at that time.
I then followed an audio stream over ustream.tv which worked quite well after some initial problems. But for images I had to rely on the more traditional services from the live blogs at Gizmodo and Engadget. BoingBoing ran an IRC channel to cover the event which I followed as well.
It was a fun experience and I'm looking forward for the maturing of the live video services.
What is your experience with live video services? Do you use them? Have you even published there? Let me know in the comments please.
PS: 3G iPhone with GPS, lower price and worldwide rollout July 11th. Hooray!
Similar posts: