Microblogging Iceland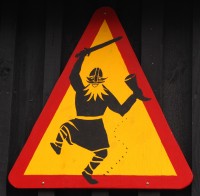 Yes, I'm back. Kaddi and me were on vacation again. This time it was two weeks in Iceland. We had a rental car and toured around the whole island. Of course we had no Internet most of the time, but I didn't miss it much. However I missed something I didn't expect: microblogging.
It's interesting how lifestreaming has become a part of my life and somehow helps me to keep track of the things that touch me in a way. So instead of microblogging live, I just jotted down some notes in my Palm and now post them below as a very abridged summary of my Iceland vacation. Of course you'll find a selection of the over 1500 photos we took, too.
---
arrived at Kevlavik. got our car. missing the voucher for tonight's guesthouse. uh-oh
good morning Iceland. guesthouse owner was a lovely old lady. missing voucher no problem.
crossed a river on a log #adventure #glymur
huge lava fields. we should have rented a moon buggy!
hehe. hotel and breakfast remind me of my childhood in the GDR.
just refilled our water bottles at a natural mineral spring
petrol is cheap here. gas stations are actually gas automates accepting credit cards. #convenient
gas station shop was run by a pair of Paris Hilton / Nicole Richie clones #simplelife
climbed into a narrow gorge/cave following the river. had to stop for lack of rubber boots.
sat in the (replica) house of Eric the Red and listened to #viking tales. awesome
building houses out of grass? Icelanders!
w00t. best hotel so far. our own bath, TV, WiFi and wonderful view at the fjord
watched the sunset at midnight. sunrise expected in a few minutes
woah we just climbed into a cave with a hot stream. @kaddi lost her sunglasses
climbed the world's largest explosion crater. #exhausted #greatview
had a bath in a thermal bath - that was better than it smelled
our 1st #whalewatching ever. saw several humpbacks and a blue whale! #epic
penis museum guestbook: was happy to see museum, but museum seemed even happier to see me
Myvatn - icelandic for "being driven insane by insects in a beatiful landscape"
hours on gravel road is no fun in #suzuki swift but the waterfall was worth it #dettifoss
photographers dream: blue hour lasting several hours #arcticsummer
watched (and smelled) volcanic steam and bubbling mud. #fascinating
lots of rain today

but we had #waffles, yeah!
built a playing card deck from a car rental prospect #diy
I'm cheese. Cottage Cheese.
@kaddi so: uargh, da kommt einem ja gleich der Hummer wieder hoch. #dekadenz
learned: glacier ice makes good ice cubes because it melts 5 times slower than usual ice
#puffins are cute!
this country is full of frickin' Germans!
Icelandic restaurants aren't exactly cheap and portions aren't huge, but boy are they good! #gourmet
walked behind a waterfall. sounds like a thunderstorm
dammit. missed our hotel by 80km. Eddar hotel postal addresses do not match their location.
Oh mein Gott! Ich habe Spülhände!
had WiFi. read about German politics. now thinking about #unabomber lifestyle (sans the bombs)
drying my socks on the dashboard, but we where just a few steps from a raven!
finally seen a #geyser. they are not as common in iceland as you might expect
I rode a horse and survived. even when it got scared by some cows
"we recommend a minke whale pepper steak today" - no thanks, we prefer to eat somewhere else
just had to climb out of a toilet stall because the door wouldn't unlock anymore
holding your yearly viking parliament/feast on a tectonic fault line? okay, why not
there seems to be some protest flash mob in front of the parliament #cantreadthesigns
bought "The Sagas of the Icelanders" this should keep me busy for a few weeks #book
the audio guides in the Reykjavik national museum are really slick. #design
the breakfast room is full of Germans. do we really need to go back to where they reproduce?
spent our last day with #geocaching and having lunch at #ikea
@-replies with comments and questions are welcome below of course
PS: Still not enough? I uploaded some videos to my Youtube Account.
Similar posts: