Paperless Geocaching with the iPhone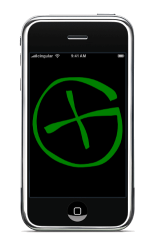 The iPhone 3G has a builtin GPS receiver. Even though it isn't as precise as a dedicated GPS it makes a good device for casual Geocaching or for storing the cache data while using a real GPS to navigate.
The simplest way to access cache data is using the geocaching.com website on the iPhone's web browser. There are several one Dollar tools that will open a cache listing with your current location prefilled and there are even ways to get that functionality for free. However this doesn't give you any navigation feature or access to any data when you have no internet connectivity.
There are a handful of dedicated geocaching applications in the appstore. Here are the ones I currently use.
---
Official Geocaching App
Groundspeak has its own application in the app store now. It gives you direct access to the website's data, displays nearby caches on a map and can direct you to a selected cache. Pocket Queries can be downloaded within the application and selected caches can also be stored for offline access. You can also write field notes and later upload them to the website for logging your finds.
It is a solid application and works as advertised. Unfortunately it is very slow. Just starting the app takes about 8 seconds on my iPhone 3G.
The application is available for 7.99€ in the App Store.
Geosphere App
This application is a dream. Unlike the offical app it can not access the online cache database. Instead you need to feed it with GPX files – usually Pocket Queries, so you need a premium membership at geocaching.com. However the application makes it dead simple to import your Pocket Query data: Geosphere includes an internal browser with which you can easily access your webmail account (or any other website) and download a (zipped) GPX file directly into the app.
Once you have imported the data, there is not much to wish for. The app can list nearby caches based on various adjustable filters, can display them on a map and will help you navigate there. You can even create a snapshot of the Google Maps satellite image at the cache's location in advance. Fieldnotes can be stored and later uploaded. Important for puzzle caches: new waypoints can be easily added, too. It is also much faster than the official app.
The application is available for 5.99€ in the App Store.
Geocaching Toolkit
The Geocaching Toolkit is not a replacement for the two apps above, but will help you with solving certain puzzle caches. It provides a few tools for things like creating cross sums, converting Roman to Arabic numbers or to calculate different waypoint projections.
The application is available for free in the App Store.
If the iPhone's GPS would be more precise and its battery would last longer, with the above apps it would make a fantastic primary caching device. But even now, it is still very useful for paperless caching.
Since I won't own an iPhone forever, I wonder what Geocaching options are available on the Android platform. If you have any experience with Android geocaching, let me know in the comments please.
Similar posts: