7 Android Apps you might not know, yet
I'm always looking for new, useful apps for my Nexus S Android phone. While there are many excellent apps everyone seems to know about, it is often the small, unknown apps that implement exactly what you always wished for.
So here are some of the apps that could use a little more exposure.
---
Circle Launcher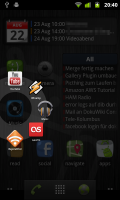 Android has folders to organize icons on your home screen, but they are horrible to use. Too often too much finger movement is needed for accessing the app you want. Circle Launcher solves this problem by positioning the apps in a circle around where your finger already is. Here's an animation of my homescreen in action.
You'll need the pro version to use your own icons instead of the ugly default ones. I used the icons from the Blawb Android Iconset.
File Expert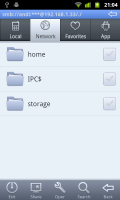 This tool is amazing. It's the swiss army knife for everything related to managing files on my Android.
Besides being a good looking file manager with all the features you'd expect, this little gem can also access Windows network shares and FTP servers, make your phone content available (upload and download) via FTP, Web and Bluetooth, does app management, creates and unpacks Zip-Files and handles a bunch of other archive formats. When you finished reading this article the devs probably have added a new feature already.
Oh and did I mention that it is completely free and doesn't have any ads?
Contact Owner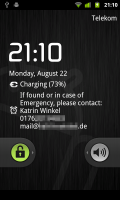 On my iPhone I used a custom lockscreen wallpaper to mention an emergency contact when the phone is found. Android has no mechanism to set a wallpaper for the lockscreen.
This app is the next best thing: just choose a contact and it will display its phone and email on the lockscreen. Simple but effective.
Changelog Droid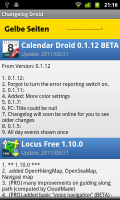 I like to read the changelogs when updating my apps. But going through all the descriptions one by one is really tedious. Changelog Droid is the solution.
It automatically pops up whenever you install or update an app and lets you see all the changelogs of the recently updated applications in a single view. This also works for apps set to automatically update.
Our Groceries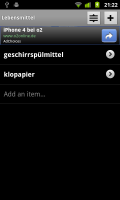 This is another of those very simple, but useful applications. As the name suggests its a tool to manage your shopping list.
The lists are very basic and there is not much eye candy here. But the killer feature is that the list can be synced privately between multiple Android devices, iPhones and the Website.
Hash it!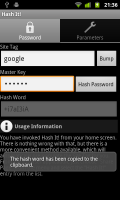 I wrote about the need to use secure and different passwords for each of your website accounts before and how to use the Password Hasher Firefox extension to do so. Meanwhile I switched to Chrome and use the Password Hasher Plus extension.
But what if you need to access a site on your phone? This is where Hash it! comes in handy. It uses the same algorithm to calculate your password and even copies it to your clipboard. The coolest thing is that you can easily invoke the app from any website by just using the Android Browser's "share" button.
→ Hash it

SMS Backup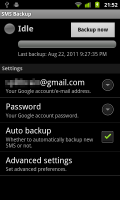 The name of this tool says it all. It backs up your text messages to a GMail folder and does everything right: conversions are kept and senders show up with their correct names when they are in your Google contacts. Of course you can also restore from your backup again.
This tool works so well you will probably forget about it once you installed it.
I hope you found one or more of these apps as useful as I did. The full list of all my apps can be found at Appbrain.
Got some obscure, but useful apps yourself? Please share them in the comments.
Similar posts: