Mobile Headphones (with Mic)
Ever since I got my new phone, I was looking for some nice on-ear headphones that would come with a microphone to use them as a mobile headset. Unfortunately this specific market hasn't as much choice as I'd like it to have. More than maybe 5 models/manufacturers aren't available currently. I had a look at three and my mini reviews are available below.
All three are made for iPhones and feature a microphone and control unit on the cord. This controller has a button that will answer calls or start/pause/skip your music. This feature works just fine on my Android powered Nexus S1). The Sennheiser and Sony models also have additional volume buttons. These do currently not work on any Android phone unfortunately.
Urbanears
The Urbanears Plattan are created by a Swedish company. Kaddi owns a pair of them, so I could test them for a while.
They have an excellent, robust quality with fabric coated cord and head band. They are available in a multitude of colors and can be folded. A really nice idea is the built in headphone jack to attach a second headphone for sharing music with a friend. The sound is quite bassy - I like it, but it might not be to everyone's taste.
Unfortunately the Plattan are much too tight to wear them comfortably for more than a few minutes.
frequency range: 20 - 20000 Hz

weight: 148g

price: 60€
Sennheiser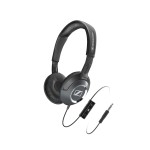 The Sennheiser HD 218i were my second try. Not as stylish as the Plattan, but solid quality. I liked the sound quality, though it could have been a bit more bass here. These are the lightest headphones of all three.
Again the wearing comfort was the problem. The Sennheiser is so loose that it will slide from your head whenever you look down. Completely unusable for mobile headphones.
frequency range: 19 - 21000 Hz

weight: 96g

price: 41€
Sony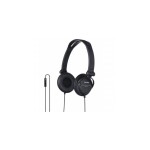 The Sony DRV 150IP are the model I finally settled for. They are the cheapest of the three and some parts look like cheap plastic indeed. I hope they are more robust than they look.
What convinced me is their good sound (they have the greatest frequency range of all three models and sound very "natural" to me) and their wearing comfort. Not too tight, not too loose, I can comfortably wear them for some hours.
frequency range: 16 - 22000 Hz

weight: 118g

price: 32€
Similar posts: