Emails from Strangers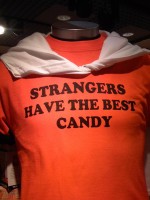 Having your name in the credits of an popular Open Source tool has strange side effects. One of them is getting emails that were clearly not meant for me.
Today it got really bizarre, because multiple people where involved. I only got one mail, but it contained a whole message history which I provide here for your amusement education.
It all started with Monika from Austria who tried to look up the opening times of a Lidl supermarket on the net. For some reason however, she did not find their official website. Instead she found a wiki that collects opening times for various stores. The story could have ended there.
Unfortunately, the information was wrong and poor Monika had to wait half an hour in the cold. When she came home she was angry and wrote a mail to the Lidl customer service1):
From: Monika
To: Lidl Customer Service

The internet states about opening hours: 7:30 for saturday

http://www.kfn.at/wiki/doku.php?id=lidl 

but lidl triesterstraße opens only at 8 o'clock.
what did I do, that I have to freeze while waiting?
in the store they then just look at you... with a shrug.
not a very friendly customer service.

monika
This came to the hands of the friendly Theresia from the supermarket's customer service. She had a look at the link and wondered what to do. Instead of registering at the wiki and changing the info, she decided to forward the whole thing to her colleague in the marketing department:
From: Theresia
To: Walter

That page isn't ours....can we somehow forward this?

asking you for a short reply
Of course Walter had no clue either. But he spent a few more seconds looking around and somehow found my email address:
From: Walter
To: Andreas Gohr

Dear Mr. Gohr,

please go on www.lidl.at and use our correct opening-hours

Yours
Walter
This was clearly never meant for me. Walter probably just found my email somewhere in the DokuWiki credits linked from the mentioned wiki site.
I'm not surprised that Monika couldn't tell the difference between some random website and the Lidl's official homepage. We all know at least since the Read Write Web Facebook login story that end user's often have no idea about how the web works.
I am somewhat surprised that Walter took time enough to dig through the site to somehow find my email address, but then did not realize that it is the not the site owner's one. But he's a real marketing pro by asking me to visit his website to update the times, instead of sending the correct times right away
The real surprising thing is, that I now have Monika's email address which is really none of my business. Yes, as I said: the whole mail history was in that forwarded mail, including the customers email address!
So here are the lessons to be learned today:
site owners:

provide an easy and obvious way to contact you!

customer service people:

get a clue about the web!

never ever give your customer's email addresses to a stranger!
Similar posts:
1)
I still wonder how she found the correct mail address, after she failed to find the correct website in the first place