T-Shirts!
I love shirts with geeky/funny prints. I made and bought quite a few recently, so why not share them with you? Maybe you like them as well. And when you do and buy them, you will make me rich1) and I can go and buy even more shirts… Everybody wins2)!
So here we go…
Just writing about this T-Shirt just made me lose again.
This is a Shirt I made for myself because I love this silly meme.
This shirt was initially inspired by a soup.io post and @tante requested a shirt to be made from it. And who am I to question @tante?
Obviously a pun on the well known HTTP status code, this shirt was requested by @foosel who had quite a run with status code jokes that day
.

Buying this shirt helps with two things: it keeps you clothed and it supports WikiLeaks.org. For each T-Shirt sold, 5 Euro go directly to WikiLeaks!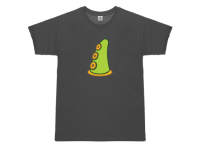 Finally the last two shirts will be recognized by any adventure game fan:
The first shows Green Tentacle from Lucas Art's ingenious Maniac Mansion sequel "Day Of The Tentacle".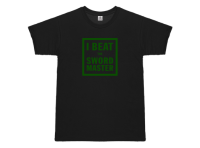 The other is the proof that I beat the Sword Master on Melee Island™ and thus solved one of the three trials to become a mighty pirate! Arrrr!
Similar posts: