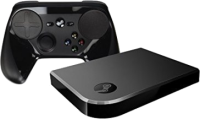 Recently I started to make more use of the Steam Link and Controller I bought about a year ago in the Summer Sale.
The Steam Link is a little box you connect to your TV via HDMI and which then allows you to stream Steam games running on your Windows machine to the TV.
The Steam Controller is a very very configurable game pad with some track pad like controls in addition to more conventional game pad controls like buttons and analog sticks.
It turns out that both together are the perfect way to play adventure games (my favorite genre) and share the experience with my wife.
It started a few months ago by accident. I was sick and had to stay in bed, so I hooked the Steam Link up to the bedroom TV and started playing Broken Sword 5. Using the controller as a mouse works fantastic. In the evening, Kaddi came home and joined me. She really liked watching me puzzling through the game and at the end we where both exchanging ideas on how to solve the puzzles.
After we finished, Kaddi wanted more. We played through a whole bunch of adventures by now, so here's a list and what we thought of them (in the order we played them):