Welcome
Hi, I'm Andreas Gohr and splitbrain.org is my website. I'm a web developer and maker living in Berlin, Germany. If you're new here, feel free to check out the blog posts and links below.
If you like what you see, you can subscribe to the RSS feeds for the Blog Posts and Links.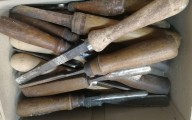 Woodturning Lathe A while ago my dad asked me if I'd like to have his old wood turning tools. Of course I said yes. Because free tools, right? So I ended up with a big box: Now this was cool and all. But I did not own a lathe. And to be honest, I wasn't sure if I should get one. Not because I didn't want to give wood turning a try, but because I wasn't sure how to fit such a large tool into my small workshop.… ▶
Older Posts are available in the Blog Archive. Keep up to date with the RSS Feed.