Autumn Walk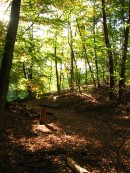 Today, Kaddi and me went geocaching in the Grunewald. It was probably the last time with such a nice weather this year.
It became quite a long walk. My GPS trip odometer says 11.13km. GPSies says it where 18.7km!? A long way to walk for sure
Speaking of GPSies: I just looked around for services allowing me to upload a GPX track log and export it to a Google Map. While there are quite a few services available, GPSies was the only one which accepted my 3.4MB file.
Track map after the jump.
---
Similar posts: