Detective Day Berlin 2019
Yesterday I participated in Detective Day Berlin. It's an event organized by a company called CluedUpp.
The idea is pretty simple. It's an event coming to different cities all around the world. You register your team in advance and on the great day you all meet up in a general area where you use a GPS assisted app to "solve a case" by walking around. There are prizes in different categories and all the teams compete with each other.
---
In our case the starting point was near Alexander Platz. The setting was "60ies London Gangsters" with the murder of the famous Kray Twins as our case to solve. There's a prize for the best dressed team, but we didn't feel like dressing in costumes, so we skipped that part.
However there's also a prize for the "best K9 detective" and since we had Snoopy with us, we dressed him up for a quick photo op. He didn't mind much and that gave us a relatively certain win in that category. Which also made it easier for us to decide to not even try to win in the "fastest team" category. Less pressure more leisurely fun.
Our team of five started at 10:30 and began our zig zag walk from witness to witness. Witnesses are shown on a Google map and before they give you a statement you have to solve a small brain teaser or puzzle. Some of those involved the local surroundings (like counting statues or find build dates for nearby landmarks) others were more traditional riddles. Giving wrong answers adds a penalty to the game clock. There are a few minor additional game elements but they don't make much of a difference in the end.
By talking to the witnesses you can slowly eliminate suspects and murder weapons until you finally arrive at the conclusion who did it and what weapon they used. A Cluedo in real life. Of course all of it is still virtual, it's just walking from geo-fence to geo-fence. But you will notice the other teams of course. According to the leader board there were close to 200 teams this time!
I liked the game a lot and we all had great fun, but of course there are a few things I wish were different:
The game setting was London with English names etc. It would have been more immersive to use real Berlin locations around Alexander Platz and maybe even base the story on some Berlin Gangsters

Similarly using more location based info in the riddles would have been good

Some witnesses had videos for their statements, which was probably quite expensive to produce, but in the end we never watched them. The surrounding environment noise was just too loud to understand them clearly. It was easier to have one of the team members read the statement aloud. I would suggest to skip the videos and use the money on more localized story telling.

The app was a bit cumbersome to use and often had trouble syncing the game state to all team member's devices. Often only a forced stop and restart helped.

Being able to upload photos through the app instead of relying on Facebook might be a good idea
Our final official time was 2 hours and 37 minutes which put us on 8th place. Not bad. And of course Snoopy won the K9 category. Just look at that adorable critter: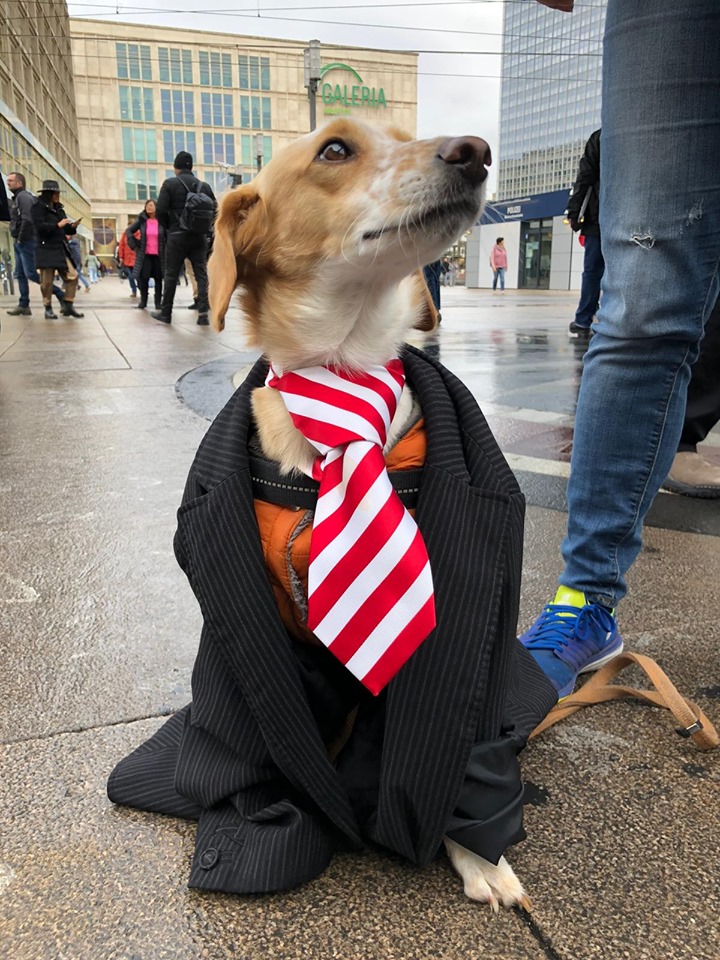 Similar posts: