DokuWiki of the Month: EECS@UTK
This article is part of a monthly series.
Every month I present a DokuWiki powered site which is special for its design, content or clever use of the software. To give you a first impression on what the site is about I'll send a short, interview style questionnaire to its creator.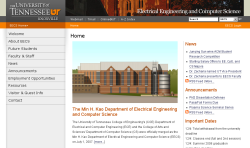 EECS - University of Tennessee
This month's wiki is of the Department of Electrical Engineering and Computer Science at the University of Tennessee at Knoxville, USA
.
The UTK is actually running two very similar sites with DokuWiki currently, www.ece.utk.edu and www.eecs.utk.edu. However the latter will replace the former at one time eventually.
I picked this site for its remarkable design. Used as a simple CMS, DokuWiki is barely recognizable anymore.
Questions were answered by Matt Ezell from the EECS IT support.
---
Can you give a short introduction on what your wiki is about?
The website is the public departmental website for the Department of Electrical Engineering and Computer Science at the University of Tennessee at Knoxville, USA. It serves to provide information for students, faculty, staff, and visitors.
Since when is it online?
The site was converted to DokuWiki at the beginning of summer 2007.
Why did you choose DokuWiki? Did you try other software before?
We chose DokuWiki for its powerful simplicity. Delegated access control helps alleviate the burden of content management, as secretaries can quickly learn to edit pages. Previously, the website had been managed by hand using Apache Forrest.
Did you do any modifications to the software?
Whenever possible, we tried to make all of our modifications as plugins. We did, however, have to make some modifications to the core to make it more CMS-like.
Who is editing the site?
The site is primarily administered by the IT Staff in the department. Access to specific pages has been delegated to individuals such as secretaries and faculty members. We have a section that is only readable by faculty and staff. Currently, we do not allow anonymous edits anywhere.
Brag about your statistics ;-)
Is there anything else you want to tell about your wiki?
I'm sure people are curious how we use columns, grids, and the dynamic menu. These are plugins developed in-house, and we would eventually like to release them to the public.
If you know of a DokuWiki driven site which is somehow remarkable and should be featured as DokuWiki of the Month, drop me a mail or leave a comment, please.
Similar posts: