Entrecard - the better Blogrush?

A few months ago I blogged about Blogrush which promised increase traffic between bloggers. I tried it for a while but finally removed the widget because of their bad performance.
Today I discovered a new service called Entrecard.
Their idea is simple:
You design your website's business card

1)

You put up their widget on your site

You place your business card at other member's websites using Entrecard credits

Traffic!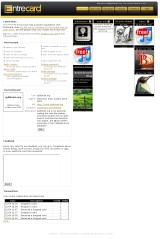 So how do you get credits? Credits are earned by displaying other's banners and by swapping "business cards". The latter might be the real traffic source here. The widget doubles as advertising space and as a business card inbox. Wherever you see an Entrecard widget you can leave your card. This has three benefits:
You earn 1 credit

The owner of the page will see your banner in his inbox and might get interested in your site

The owner of the page earns 1 credit and might invest it in advertising at your site (which again earns you credits)
What bugs me a bit is that you can drop your card at as many blogs you like. This might be exploited soon and will probably lower the usefulness of your inbox.
On the other hand, because you can manually approve each "advertiser" and can decide where to advertise yourself, the overall quality of the network should be much higher than it was on Blogrush.
I will give it a try for a while and see how well it works.
If you try it, don't forget to leave your card and leave recommendation at my Entrecard profile
.
Similar posts:
1)
we called them banners in the old days