Killing your Creation
Yesterday Kaddi and me visited a show by René Marik who've got some fame with his puppet cartons over at YouTube. His lead character is a mole with a speaking disability. The short sketches where the mole meets fairy tale characters like Snowwhite or Rapunzel are simply hilarious1).
Kaddi has been a huge fan of the mole videos and was happy as a lark when I gave her the cards for the show on Valentines Day.
Well, the evening could have been just great. We had a delicious2) dinner at the location. When show started we where laughing all the time. It was quite a nice mix of different styles. Marik not only showed his famous puppets but also did some stand-up comedy and sang quite well.
Unfortunately one of his last mole puppet sketches was so sad it broke Kaddi's heart. The mole sees the Barbie doll which played Snowwhite and Rapunzel before, making out with Ken. Obviously love sick he decides to commit suicide on a highway. As if this isn't cruel enough already, Marik lets the mole survive the hit by the first car and makes him change his mind. Being in fear the mole tries panicky to dig away from the coming car, but fails because of the highway asphalt. The adorable little mole is finally driven over by several cars and Marik ends the show leaving the puppet lying at the stage.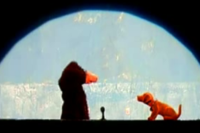 You see that's quite a story to tell just with a puppet and some mouth made sounds. But that's what intensifies the horror even more. A lot simply just happens in your mind. I found this really sad already, but Kaddi who grew fond of the cute mole during the last months was crushed. She was fighting with tears for the remaining encores and was crying the whole way home.
I'm disappointed of course. I wanted to spent a great evening with my girlfriend but instead she was hurt. I can't really damn Marik. An artist has the right to kill his creation and many did so before3). But still it really spoiled our evening. And it might even have spoiled the fun of watching the mole videos.
Did something like this ever happen to you? How did you took it when some of your favorite fictional characters died?
Similar posts:
1)
You probably need to speak German though
3)
Conan Doyle's Sherlock Holmes comes to mind