Another Happy Eee User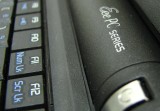 Since a few days I'm happy owner of an Asus Eee PC 4G. In case you've been living under a rock for the last few months: The Eee PC is a low cost ultra portable laptop computer. It weighs just a bit over 900g, has a 4GB flash disk instead of a hard disk and a 7" display.
By default the Eee comes with a customized Xandros Linux distribution and a few preinstalled applications. Asus did a really good job in creating a useful GUI for beginners. This is one of the success factors of EeePC in my opinion.
Of course I'm no beginner and wanted something tweaked to the bit to my own likings. I'm now running Arch Linux on the Eee and am very happy with it so far.
Some things are worth mentioning about the hardware, though:
The EeePC gets quite warm – not too hot, but considerable warm

The keyboard is nice but has some things you need to get used too:

The right shift key is oddly positioned and you will miss it a lot in the beginning

The characters

> <

and

|

can only be typed using the function key (bad for

DokuWiki

syntax)

You need to press the keys all the way down to register

Sometimes dialog windows will be bigger than the 800×480 screen resolution

1)
The EeePC is the perfect travel machine and for just 300 EUR you can't go wrong.
Similar posts:
1)
Tip: hold ALT, then move the window by clicking anywhere inside the window to move it beyond the screen borders