Project Wonderful - The Bottom Line
About 4 months ago I started to use Project Wonderful in addition to Adsense. I promised to follow up with a second post on the performance of this alternative ad publisher.
Well, here are the numbers: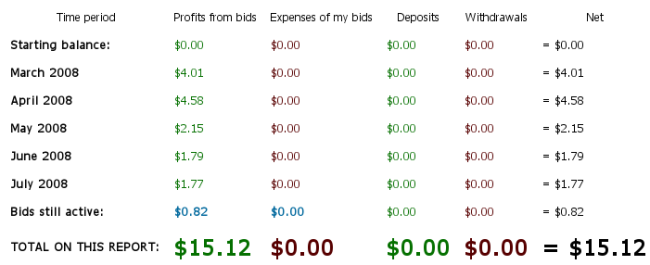 That's right, I earned $15 over 4 months and prices went down over recent months. Not very satisfying.
Also not satisfying were the relevancy of the ads. Ads for herbal teas, jewelry or formula 1 racing isn't much related to my content. And even though I explicitly disabled NSFW ads in the setup I had to block one or two ads for their explicit content.
So Project Wonderful did not perform very well on my site. A few possible reasons I see are:
The ad wasn't very prominently placed at my site

My traffic might still be too low

Most advertisers on PW seem to be very small businesses or private persons with a low advertising budget

Finding relevant pages worth advertising on is somewhat complicated at PW
I might retry Project Wonderful someday, but for now it just isn't worth it.
What now? I removed the adcode and withdrew my funds. I now have an empty space to fill with some new service
. Suggestions welcome. Let me know about new alternative advertising services or just cool widgets.
Similar posts: