Nexus S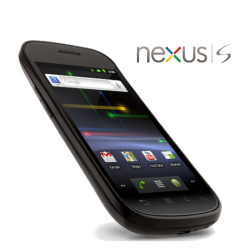 For the last years I had an Apple iPhone 3G and absolutely loved it. Back when I bought it, it was simply the best phone available. Today, the market looks different. Hardware vendors caught up with Apple and Google created a usable and more open alternative to Apple's restrictive system. It was time to switch.
For about two weeks I'm now the proud owner of a Nexus S Android phone. Time for some thoughts here. I won't do a full hardware review, there are lots of them on the net already. Instead I just like to point out a few things I found noteworthy.
There isn't much in the box: a charger, a USB cable, headphones, the battery and the phone itself. There's no manual of any kind in the box, not even a quick start guide. It's not that you really need one, the phone and the OS is pretty self explanatory, but I like to read through the manuals to see if I missed something after I tried on my own.
The charger is excellent. It's as tiny as you could possibly make it. It doesn't get warm when not connected to the phone, so I guess it's one of those power saving ones we've been promised by the industry for some time.
The headphones are crap. Well at least they don't fit in my ears comfortably. Your mileage may vary. I'm still using my iPhone headset, but I'm open for suggestions for a good mobile phone headset. Let me know in the comments please.
For charging and data connection, the Nexus S uses a micro-USB connector instead of the more common one mini-USB. I'm not sure why they came up with this new form factor as the space saving seems to be minimal. But with the new EU regulations I guess we'll see more of these micro-USB connectors in the coming years.
Unlike most other Android phones, the Nexus has no SD-Card slot. Instead it has a 16GB internal memory, with about 1 GB available as "internal storage" and the rest mounted under "/mnt/sdcard". The latter can be accessed via USB Storage mode. However when connected to my (passive) USB hub, the USB connection was very flaky and went up and down again. Connecting directly to the computer, solved that problem. Looks like the Nexus expects a bit more power than my other USB equipment.
When handling the Nexus for just a short time I noticed what Apple means when they advertise the iPhone as Oleophobic – the Nexus screen seems to draw fingerprints and smears much more than what I'm used to from the iPhone.
On the software side, I'm quite impressed by Android. I especially like how very well the various applications work together. For example when you install the Last.fm app, it automatically scrobbles the songs you play in the Android music player. Or if you click "share" in the photo app, it gives you a list of all your installed 3rd party social apps.
Of course there are things that I liked more on the iPhone. The keyboard for example was better on the iPhone IMHO. Luckily you're never limited on choice at Android – I'm currently trying a different keyboard application.
Speaking about trying software, I'm still looking to find my ideal set of apps. There are so many of them
. You can see my frequently changing app setup at AppBrain. I will probably blog about some of the apps I test later.
Finally I want to share a tip with you. If you're moving from the iPhone to an Android phone and want to take your SMS text messages with you, here's how:
connect your iPhone to iTunes one last time and do a sync (make sure you disable encrypted backups)

locate the

3d0d7e5fb2ce288813306e4d4636395e047a3d28.mddata

file in your iTunes backup folder and upload it at

http://faked.org/isms2droid/

– you'll receive a XML file back

Put the XML file from step 2 in /mnt/sdcard/SMSBackupRestore/

Choose "Restore" in the SMS Backup & Restore app and select the xml file you just copied
Similar posts: