One Year of Car-Sharing
Since I got my drivers license I try to drive as much as possible for training and fun. Even though I found it very hard to learn, I really enjoy driving now. Even in Berlin's traffic.
Of course I don't own a car. It's not really worth the hassle and Berlin's public transport mostly works. But since 2013 I'm member with 3 different car sharing companies.
All three are "free-floating". That means you find the car via a mobile app, unlock it with your membership card and leave it wherever you want. There are no fixed stations. Of course the "wherever" is limited by their business area which unfortunately does not cover the whole of Berlin. For example my mum just lives slightly outside the area.
---
Car2Go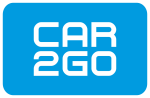 Car2Go was the first company introducing the free floating concept in Berlin. It's a joint-venture between Europcar and Mercedes Benz which means only Smart4Two cars are available. The majority of them being petrol powered and just a very few electric ones.
Car2Go seems to have the largest fleet and has the biggest business area.
Their cars are somewhat sucky though. Very hard suspension, not much space and the board computer tends to be very slow.
They still are kinda my favorite. Despite their shortcomings I like the Smart formfactor for the city.
For a small fee per rental (to be set in your account) you can waive the excess on the insurance. Gives you some extra peace of mind.
DriveNow

DriveNow entered Berlin second. This time a joint-venture between BMW and Sixt it has a larger selection of cars. There are Minis and Series 1 BMW and both are also available in their convertible versions. A few electric BMW are also available.
The business area is slightly smaller than Car2Go's.
The DriveNow cars are the most luxurious ones. However I find the interior very confusing if you're not used to BMW. It's especially bad if you try to figure it out in the dark. But once you know your way around, it's really something. All those cars, including the Minis have a lot of horsepower - much more than you could possibly need in the city.
Again for a small fee per rental (to be selected in the board computer) the insurance excess can be waived.
MultiCity

MultiCity was the last to arrive. It's a cooperation between Citroën and Deutsche Bahn. The clue: the whole fleet is electric.
MultiCity has the smallest business area though.
Driving an electric car is amazing. Every time again it feels like the future. They are of course very very quiet. The thing that's most different is what happens when you step off the gas: the car starts to convert momentum back into electricity so you start to get slower very fast without (actively) breaking. Once you get used to it though it makes for a very natural way of driving1).
Unfortunately the insurance excess of 750€ can't be waived which always makes me a bit afraid to use them. In terms of interior these cars are very very plain. They have the tiniest navigation system and no board computer at all. The other companies require a PIN in addition to your membership card. If somebody steals your MultiCity card you're screwed.
2014 in Numbers
So how much did I use CarSharing last year?
I made 12 business trips (customer ↔ office)2) and 27 personal trips (not counting the ones Kaddi paid for) which is 39 trips in total. Those amount to 23 hours spent in a car driving 551km which ended up costing 416.52€.
The average trip was 14km long and took about 35 Minutes. As you can see, taking a car in Berlin is not about speed. It's more about comfort. Most of my trips were in the middle of the night, when wait times for public transport are longer or when I had to go to more remote places3). The average trip ended up costing around 10€. As a rule of thumb I'd estimate CarSharing about half as expensive as taking a taxi.
Similar posts:
1)
not sure if that explanation makes any sense, I guess one has to try it
2)
which my company paid for but which are included in all the statistics below
3)
A girlfriend living out in Steglitz doesn't help