Adventure before Dementia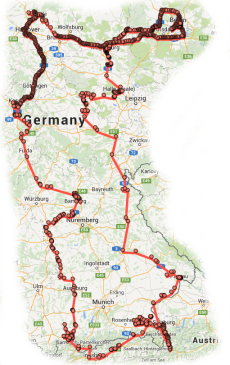 We're back from our vacation. Originally we planned to visit Scotland, but due to bad (aka. late planning) we couldn't find any affordable flights anymore. Instead we decided to rent a camper van and visit Bavaria and Austria again (after visiting Kaddi's parents), because we liked it very much when we passed it during our Italy vacation last year.
Usually we rent our camper vans from one of the bigger companies. Because this year it was a last-minute decision, those companies were booked out already and we had to take what we could find. So unlike in the last years, the camper van this year was not a brand new one. It had more than 100,000km on the clock and was several years old. It had a couple of scratches and signs of usage but looked okay otherwise.
---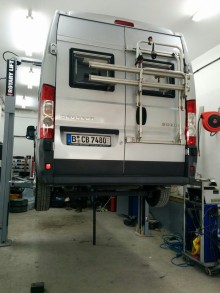 Unfortunately it wasn't. First we had trouble with the water system. Opening any tap made water come out of the van's floor. Luckily we were in Bamberg at that time which is the rental company's home town. So we spent half a day at their workshop where they replaced a faulty faucet. A few days later, the van starts making weird noises. A look below revealed that the gray water tank was hanging down. Again we're lucky. The next workshop is just about a Kilometer back. They were able to fix it back on.
Again a few days later we lose our brakes after a long 16% decline in Austria. Very scary shit and Kaddi managed to come to a halt on a parking bay with the last bit of brakes. Not knowing what to do we called the ÖAMTC (Austrian roadside assistance). Turns out that overheated brakes (aka. brake fading) is a thing and just waiting for them to cool down is enough. That was a rather expensive lesson about brakes to learn. Still the brakes might have been somewhat small-dimensioned for the van - we drove the exact road with other cars before without having such a problem.
Overall we were lucky with all the problems we had with the van. But it did dampen our confidence in it a lot. So the whole vacation we were always a bit worried what might go wrong with it next. And worrying through your vacation is not especially relaxing.
The weather was a bit annoying as well. This was planned as a summer vacation. And while we had a couple of sunny days, we mostly had overcast skies and quite a few rainy days as well. Of course there's stuff to do on rainy days, but Austria and Bavaria really excel at their nature and it sucks if you can't go hiking because it might pour down on you or worse you might be surprised by thunderstorms in the mountains.
But despite the troubles we had a fantastic vacation. Even a bad camper van is still an awesome way to travel and we saw a lot of beautiful things.
Among my favorites were Rothenburg ob der Tauber - a medieval town which pretty much matches what Americans probably think all of Germany looks like. Then hiking in the Allgäu region (near famous castle Neu Schwanstein) was awesome. Visiting the top of Germany's highest mountain Zugspitze was also very cool. In Austria we visited the Eisriesenwelt - the world's largest ice cave. Unfortunately you're not allowed to take pictures in there. At the castle of Hohenwerfen we saw a falconry show with eagles and vultures.
As usual, here are a couple of pictures.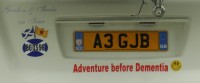 PS: In case you're wondering about this blog post's title. We picked up that motto from another camper van's sticker. Cheers, Gordon and Sheila! We hope you don't mind us adopting your motto!
Similar posts: