Connecting a Split AC to WiFi/Tuya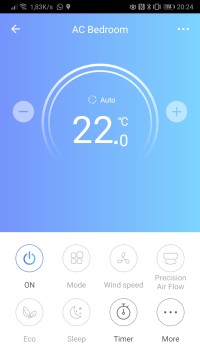 We recently bought a Bomann CL 6046 QC CB split inverter air conditioning. It comes with WiFi connectivity and of course I wanted it to be integrated into Home Assistant.
The AC is one of those cheap Chinese ones that are sold under various brand names (TLC and Daikin seem to be similar). All of them use the Tuya Smart Life app and as always with these things the first connection is a PITA.
According to the manual you should press ECO six times to get the AC into pairing mode. But that didn't work at all for me. Here is what worked:
disable your 5GHz WiFi, all the cheap Tuya stuff speaks 2.4GHz only

open the front panel of the inside unit

the lower left and right sides can be pulled forward and come right off

the lower middle section needs a bit more convincing but also needs to be pulled forward

then the whole front panel can be swiveled upwards

under the front panel is a small gray box – that's the WiFi module

it should have a couple of barcodes or serial number stickers

turn on the AC

press and hold the little black dot on the WiFi module (use a pen)

now the display should switch to CF

open the Tuya App (first time users probably need to register)

click the plus and select "Add Device"

select "Large Home Appliances", "Air Conditioner Wi-Fi"

pick your network and enter the passphrase

click confirm the indicator is blinking… quickly

after a while it should actually pick up your device

don't forget to turn on 5GHz again
Easy, eh? From there the device should automatically show up in your Home Assistant's Tuya Devices.
BTW. in case you wonder how the quick connect lines work (because I did): The coolant tubes have some kind of valve at both ends and are pre-filled with pressurized coolant. When they are connected, the valve opens. Note that these connections can not be unscrewed again. It's some kind of one-time valve that is crimping itself tight.
Similar posts: