The Skatalites Live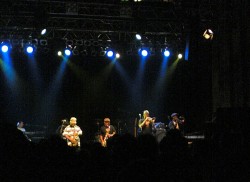 I just came home from a fantastic concert of the legendary Skatalites. I wasn't to a concert for some time and I'm really glad I bought the tickets to see them.
The Skatalites exist since the Sixties and literally invented Ska, Reggae and Rocksteady. Back in the day they played with all those famous people like Bob Marley, Desmond Dekker or Prince Buster.
The concert was really great and I was soaked in sweat after dancing for the two and half hours they played, but I enjoyed every minute of it. I hope my tinnitus is gone before tomorrow morning's meeting
.
PS: I didn't take my camera, so you have to live with the crappy mobile phone pic.
Similar posts: