DokuWiki - The best localized Wiki?
Most Open Source wiki engines can be localized to different languages. The one with the most supported languages is of course MediaWiki - the software behind WikiPedia. Their localization statistics lists an awful lot of languages. Even with many of those translation files being incomplete it is quite a lot.
To really unleash the power of a Wiki, its users need to be able to understand the software. For many people, the interface language can a huge barrier. MediaWiki has a big advantage here, thanks to their enormous user base.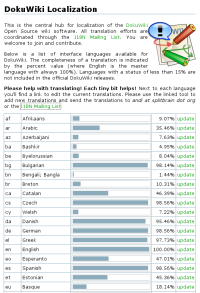 So how does DokuWiki compare? The last release shipped with about 40 different languages. This far more than in any other Open Source wiki, except for MediaWiki of course1). Like in MediaWiki not all of them are 100% complete, but they do cover the most important aspects of the GUI.
To make DokuWiki even easier to localize, I recently wrote a tool, to translate DokuWiki strings in a simple web interface. Today I combined it with a statistical overview about the translation status to motivate possible translators to join the efforts (I'm looking at you!).
If you look at the statistics you'll see a lot more languages listed than in the last release. I was able to find about 50 different strings that match close enough between DokuWiki and MediaWiki, MoinMoin or PMWiki to make borrowing their translations sensible2). So I wrote a script which fetched their translations for about another 40 languages.
Of course those new translations are still very incomplete and won't be added to the next release unless someone will complete them.
So, is DokuWiki the best localized Wiki? Maybe not yet, but I think we are close. Why don't you help to make it better?
Similar posts: