My Photography Equipment
After my recent photo posts I got a few questions about the equipment and tools I use. Instead of answering the questions individually I'll just do it in a blog post.
Quick History

I'm a hobby photographer. I never took a course or learned how to take "professional pictures". However I do photograph since I was a little kid. I took my first shots with my father's Praktica SLR.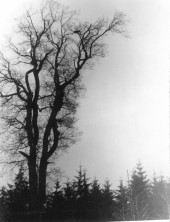 When I was 8 or 9 I got my own Beirette camera. The Beirette had no auto focus – you had to guess the distance of the object to photograph and regulate the focus ring on good luck. There was no way to see if you were correct until you saw the developed photo later. Lighting conditions had to be chosen manually as well. I have very few photos from that time and most of them are very blurry. The tree on right is one of better ones.

In the nineties I got a Olympus AF-10. The AF-10 was simple point and click camera – no manual controls at all. Taking pictures with is was so much easier. It was my camera for many many years and I still have it.

The digital photography age began in 2002 for me. This was when I bought my first digital camera. It was a Olympus C1 which had 1.3 megapixel and a 3x optical zoom. It served me well for about 3 years when a quick drop ended its life forever.
Current Equipment
The camera I use today is a Canon Powershot S2 IS. It has a 5 megapixel sensor and 12x optical zoom. An image stabilizer helps to avoid camera shake when using the zoom or on longer exposure. This camera is a whole different class to the ones I ever owned before. It has a lot of features and each and every aspect can be manually controlled.
When I bought it, I was also thinking about getting a DSLR but decided against it because of the price. Today I'm very happy I did buy the S2 instead.

One difference between the S2 and a real DSLR is that you don't see the real image through the view finder in the S2. Instead you are looking at a small display there1). Professional photographers may dislike this, for amateurs like me this is great. It allows me to see the difference a setting makes in realtime before shooting the photo. The S2 is also much lighter than a typical DSLR.
If I had to buy a new camera today I'd most probably go for the S2's successor, the Powershot S5.

The most important addition to the camera except a fast SD card is the tripod. I use a "Tanner TR 301R" which I bought at the Hong Kong night market. Its a light-weight aluminum tripod with retractable legs. Using a tripod is essential for doing long exposure shots.
Software
There isn't much on the software side. I usually use GQview to look at my photos but I still haven't found a good organizer that saves image descriptions in IPTC tags. For image editing I use Gimp, but I rarely do much more than cropping anyway. For stitching panorama images I rely on a Windows tool called autostitch which works quite well in Wine. I also experimented a bit with HDR imaging but haven't found a software I like, yet.
If you know of a good Linux image organizer or HDR software please let me know in the comments. I'm also interested in your equipment. Is there something you'd recommend to me?
Similar posts:
1)
of course you can use the big swivel display, too