WTF? of the year
I get strange things in my letter box sometimes. But what I got today, was probably the weirdest. Let me show you a scan of it: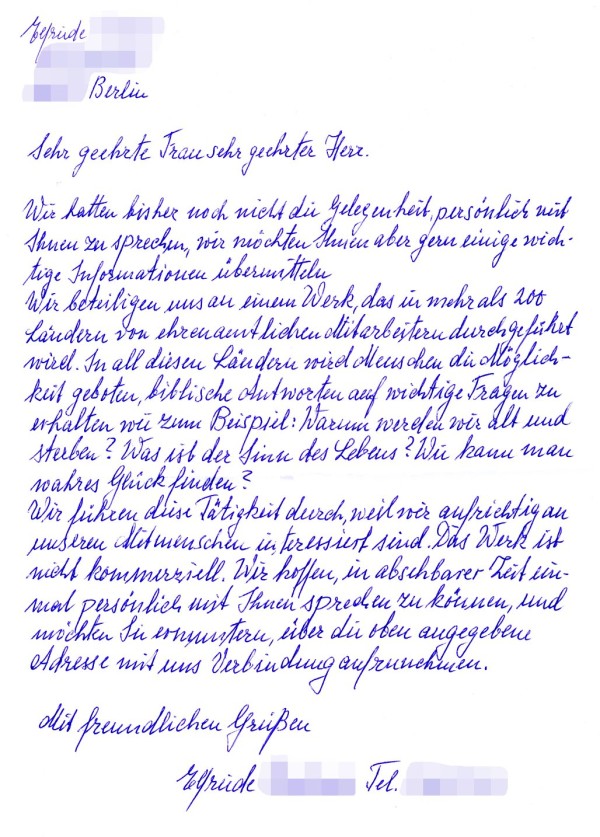 Yes, that's a handwritten letter. It roughly translates to this:
Dear Misses, Dear Mister

We hadn't had an opportunity to meet in person yet, but we'd like to give you some important information.

We're involved in a work which is done by volunteers in more than 200 countries. In all these countries, people get the opportunity to get the biblical answers on important questions. Like for example: Why do we get old and die? What's the sense of life? How to find true happiness?

We're doing this deed because we're sincerely interested in our fellow men. The work is not commercial. We hope to speak to you in person soon and want to encourage you to contact us via the given address.

With kind regards,
Elfriede …
So this is really a handwritten mass mailing letter. It's neither printed nor copied. It doesn't even use carbon copy paper. It is real, genuine ball point handwriting. I still can't believe this anachronistic, stubborn and completely wasted dedication…
Did you ever found anything stranger in your letter box?
Similar posts: