Fair Trade Sneakers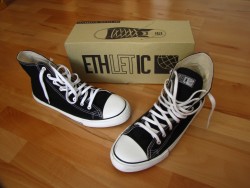 I like Chucks, but since Converse was bought by Nike they are produced in questionable work conditions. So why not look for alternatives?
There are a few companies producing sneakers under fair and ecological agreeable conditions. The ones I found are Blackspot Shoes, Veja and Ethletic but there are probably a few more companies.
I bought a pair of the black Ethletic sneakers at Grundstoff, a German online retailer carrying a lot of fair clothing products.
Good to know that you can make a difference sometimes by just shopping somewhere else.
Similar posts: