Avatar 3D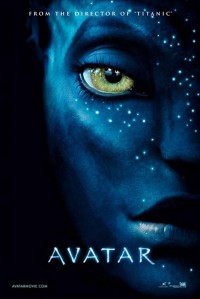 Okay, I'm probably one of the last people who went to see the Avatar movie. But I had really try hard for this one.
First friends asked us go go with them, but in the last moment we found out they had tickets for the German version only. I didn't want to spoil the fun with German dubbing. Then I tried to preorder some tickets but that didn't work so we went to the cinema on good luck. Of course we had none and it was sold out. The next day we wanted to go, the movie wasn't scheduled. So we finally got tickets for Sunday night. Not ideal but I really wanted to see that movie.
And boy, am I glad I did!
This was exactly as I always thought cinema would be in the year 2010. The 3D simply blew me away.
You probably read a lot about the Avatar story elsewhere so I will not bore you about it. It's not the exactly the most innovative story you've ever heard, but it isn't bad either. But the graphics of Avatar on the other hand are fantastic.
And that's not just that is in 3D. It would still be a graphically overwhelming film in 2D. The creatures and plants of the alien world Pandora are so full of details. The animal's movements are extremely realistic. But the most fascinating thing was that I could no longer tell how something in the movie was created. I mean, I couldn't tell if something was classical matte painting, 3D animation, real cinematography or painted models. All these techniques fused together to create an amazing experience.
So if you haven't seen this movie yet - go see it. There will be a lot more 3D movies over the next years, but this one is the start of a new era of cinema and you really should not miss it!
Similar posts: