South West Germany Road Trip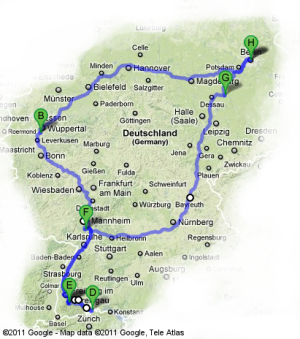 We're back from a 10 day vacation for a week now, but I hadn't the time to blog about it. So here comes the usual photo post…
This time we stayed "home" in Germany and rented a car to explore the south west of it. All together we spent 2486km on the road and I'm proud to say I drove most of the time
.
Over the initial weekend we visited my Dad in Solingen, then moved on to our final destination in the Black Forrest where we spent a week with hiking and driving around. On one day we made a trip to Switzerland to the famous Rhine Falls in Schaffhausen.
Our return trip took us to Speyer, the amazing Car and Technic Museum in Sinsheim and a stay over in a nice guesthouse near Bayreuth. On the last day we had a look at Wittenberg where Martin Luther started the Protestant movement.
---
Similar posts:
Posted on Friday, September the 16th 2011 (8 years ago).
blog comments powered by