New Keyring
For the last years, I carry a rather bulky key ring. Attached to an old Mercedes Benz star emblem (with the star long broken) were no fewer than 15 keys and a bottle opener: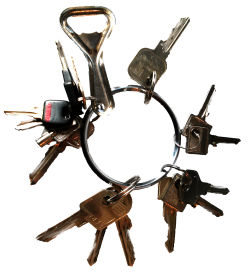 apartment key

basement key

letter box key

office entry key

office door key

another office key?

unknown key

bike related key, maybe obsolete

bike related key, maybe obsolete

bike lock key 1

bike lock key 2

unknown key, maybe old basement

my Mom's apartment key

strongbox key?

the same key as 14.
It weighted 187g and contained a lot of keys I nearly never used or even couldn't remember what they were for anyway. Inspired by the EDC Blog I decided to revamp the key ring and replace unneeded keys with some more useful tools. This is what I carry now: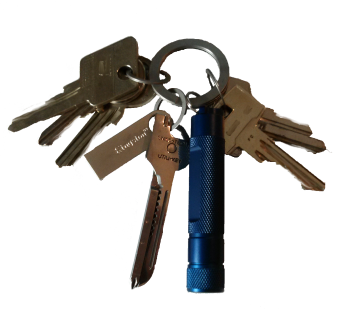 I'm down to six keys (apartment and office) and the whole ring now weighs 122g including the tools. Of these I selected the three following after some careful review studying and spending hours on different EDC1) sites.
Fenix E01

LED Flashlight. I selected this one because it runs up to 21 hours on a single, standard AAA battery. It's still pretty bright, small and lightweight.

Swiss+Tech Utili-Key

. Of the various multi tools I found this to have the best usefulness/size ratio. It has a Flat and Phillips screwdriver, a bottle opener and a tiny knife – the things I probably need most.
For the keyring itself I decided for a Drosselmeyer Free-Key. It's similar to a simple key ring, but has a cool system for adding and removing keys without breaking your finger nails.
For now I'm pretty happy with the outcome, but might want to experiment with different tools in the future. An iGo MicroUSB charger cable or a mini prybar tool might be useful. If you have any useful tools on your keyring I missed, please let me know.
Similar posts: