EDC Update
This is a post I was planning to write for a long time now, but somehow never came around to. In 2012 I wrote about my keyring as the main part of my EDC1). Since then a lot of my equipment changed, so here's what I carry every day: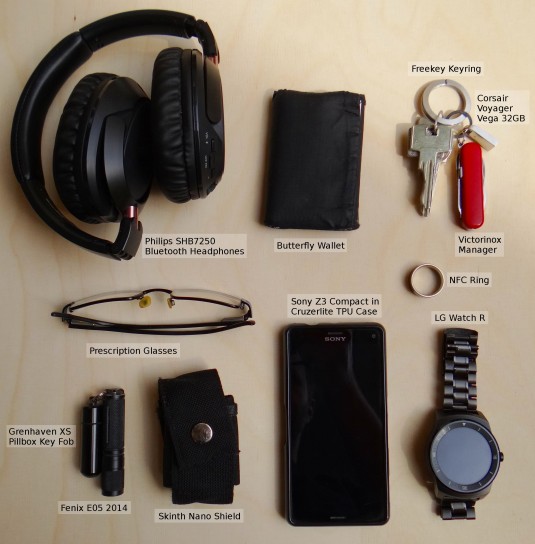 The goal with my EDC is to be able to carry the same things really every day. That means Winter or Summer, regardless of clothing or bags carried. So everything has to fit on my body when I only wear jeans and T-Shirt on a hot summer day. And I have to actually regularly use the things I carry, otherwise why carry them? The things you see above are the result of 4 years of optimizing
Below is a detailed description of all the items.
---
Philips Bluetooth Headphones
To me, headphones are a must to survive public transport.
I had to switch to Bluetooth phones from my previous Sony headphones, because the headphone connector of my phone broke (apparently a common problem with that model).
I tried about seven different models and found that many of them did not work properly with my phone (problems adjusting the volume). Of the ones that did work, the Philips ones were most comfortable for my head and still in an acceptable price range.
The battery lasts about a week for me.
place: on my head or around my neck
Butterfly Wallet
I'm still using the same wallet I wrote about in 2013 - the Butterfly Wallet. I haven't found any better solution that is as compact at this one.
Three years later it's starting to show signs of wear. Small holes are appearing on the corners and seams begin to dissolve, but it still works.
The maker's website seems to be gone but it is still available via Amazon.
place: right front pocket
Freekey Keyring
Nothing new here. It just works. From time to time I consider using a solution like the Keysmart or Orbitkey but I'm not sure if that would actually be an improvement.
place: right front pocket
Corsair Voyager Vega
This USB3 stick replaced my Kingston DataTraveler SE9. It's smaller, faster and has double the capacity. I am still using the Ultimate USB Stick Setup on it.
place: right front pocket
Victorinox Manager
I found those little Victorinox swiss army knifes to be the best compromise of utility and weight. The Manager replaced a dedicated bottle opener and the Swiss+Tech Utili-key on my keyring. Its bottle opener admittedly needs a little more skill to use than other solutions, but I don't want to carry the same utility twice.
I previously used the Victorinox Rambler wich is a good and tiny bit smaller choice. But the Manager adds scissors and a tiny pen at expense of the toothpick I never used anyway. To me the scissors were worth to have.
All in all the Manager covers the following functions:
Bottle Opener

Knife (theoretically it should be short enough for TSA - never tried though)

Philips Screwdriver

Flathead Screwdriver

Nailfile

Scissors

Tweezers

Pen
place: right front pocket
NFC Ring
I bought this one during the original Kickstarter. I don't really use the NFC functionality in day to day use, but it's a cute gimmick.
Since Kaddi and I both own and wear one, this is more like an unofficial wedding band to me.
place: left hand ring finger
LG Watch R
Sony Z3 Compact
The Sony Z3 Compact replaced my Nexus 4 and mostly kept the form factor. Despite the broken headphone connector I'm still happy with it. Marshmallow arrived about two weeks ago – that could have been earlier, but at least Sony is still updating their older models.
The battery life was phenomenal when I first got it. After about 1.5 years now, the battery is not as good as it was before, but still lasts through a common day easily.
The Cruzerlite Bugdroid skin doesn't add much size and is the only one I could find that covers the charging flap. Which I wanted because I use a magnetic charger instead.
place: left front pocket
Skinth Nano Shield
This was added to my EDC to slim down my keychain. I carry the flashlight and the pillbox in it. It's really small and weighs next to nothing on my belt. I can easily operate it with one hand which is really handy to access the flashlight while you're doing something.
place: belt
Fenix E05 2014 Edition
The 2014 edition of this classic AAA flashlight improved the Lumen output with a new type of LED. In my research it came out as the best compromise between brightness, size and battery life.
Many people think carrying a flashlight is obsolete with the availability of flashlight apps on phones. However I find a dedicated flashlight much easier to use. I can access and turn on my flashlight single handed and I can even hold it with my mouth when I need both hands. Try that with a phone.
place: belt
Grenhaven Pill Fob XS
A genric small pill fob. I bought this before using the Skinth Nano, so I tried to find the smallest version possible to not bloat my keychain too much. I use it to carry a single pain killer pill.
Unfortunately it is so small that I can not put a pill with it's usual plastic wrapper in it. Instead I have to unpack the pill and wrap it in tinfoil. Which might look really suspicious should police ever check me
. I will most likely replace the fob with a slightly larger version some day.
place: belt
Prescription Glasses
To see shit. Duh.
place: my nose
Not shown
Coins and a Kleenex
place: back pockets
Similar posts: