Can FIFO
One of the very first things I built, when we moved into the house was a small shelf for our pantry to keep cans and bottles.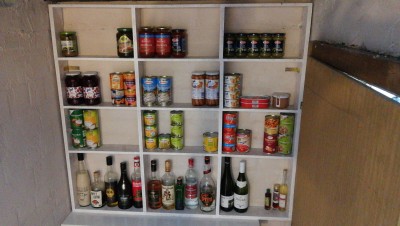 However with Corona and permanent home office, we started to keep more food in the house and quickly outgrew the little shelf.
Time to build something new. I liked the First In, First Out system I built a few weeks ago for our milk and coffee storage and I wanted something similar for canned goods.
Again, the construction is simple: just a few slight slopes made from OSB to fit the IKEA Gorm shelf we have in the basement. Assembled with glue and a nail gun
. The little rails are made from firework rocket sticks.
Lots of space now. I guess we can buy more in bulk now
Similar posts: