grūpthink reinvents listible
New shiny "Web 2.0" sites are launched everyday but not all are original new.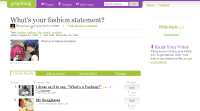 Yesterday I came across a new (at least to me) site named grūpthink. The idea is simple, members can ask a question and other members can add new answers or vote for already given answers. This first sounds like Yahoo! Answers or the now deceased Google Answers. But on grūpthink there is no deadline for a question and it is not about finding the one true answer which solves the question. It's more like a poll on steroids.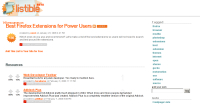 While I was browsing the site I remembered a site which launched about a year ago called listible. It received some buzz back then (I wrote about it, too). I just revisited listible today and it looked still the same. Even the front page topics seemed to be the same. There is no objective way to see how active the page is but it seems pretty dead to me.
The question is: will grūpthink go the same way? Is it a short-lived buzz or could it develop into a useful tool?
When I first saw listible I thought, that it might change the way how we search for things with a lot of options. Eg. when searching for a Wiki software you could find a list of Wiki software and then try the first few best voted entries. But I guess a simple yes/no vote is not enough for complex things like selecting a wiki, pages like WikiMatrix et al are probably better fitted. But when listible and grūpthink are not good for making complex decisions simpler, what is it good for then?
What niche could grūpthink fill? I have no idea. Have you?
Similar posts: