IsoCity Residence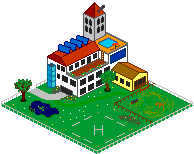 IsoCity is an art project by Kenneth Fejer. He is a game designer who spends his day with creating realistically looking models and sprites with limited space, size and pallettes and he does a great job.
With IsoCity he provides a playground for other pixel artists (or ambitious amateurs). The idea is to build a isometric city where users can create their own house. My own attempt is shown above. Compared to the other houses it looks pretty crappy, but I had fun creating it and now have even more respect for those pixel pushers
.
There are currently 163 houses built already and only a few empty spaces, so if you want to join, read the rules and hurry up.
Similar posts: